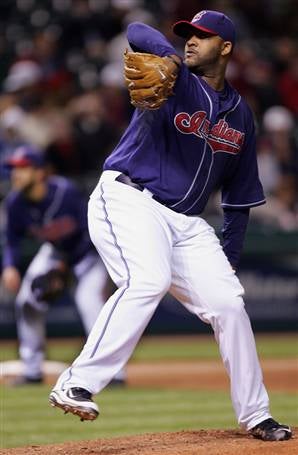 Notes from a day in baseball:
• C.C. Rider. What would be cooler than a duel between C.C. Sabathia and John Lackey in the AL Playoffs? OK, a werewolf fighting a tiger: That's a given. But what we're trying to say is that Sabathia has six different kinds of Bringing It, and used them all on Tuesday for his fifth career shutout. In an age when Barry Zito gets a quadrillion dollars for pitching six innings per outing, it's nice to see complete game domination from someone. Sabathia gave up five singles as the Indians beat the Royals 1-0. He went to 9-1 overall, 4-0 in five starts since May 16, while Cleveland improved to 20-6 at home, where Sabathia is 6-0 in eight starts. The Angels' Lackey is the majors' only other nine-game winner.
• Just Call Him One Wolf. Lenny DiNardo — who sounds to us like a character from Laverne and Shirley whom we can't quite picture — is nonetheless also bringing it these days. DiNardo outfought Boston's Daisuke Matsuzaka as the Athletics won, 2-0. It was the Red Sox's fifth loss in six games. Heavens!
• OK, How About Some Offense?. By the power of Greyskull! Aaron Hill's walkoff walk which scored Matt Stairs provided the Blue Jays with a 12-11 win over the Devil Rays, as Toronto scored six in the ninth to win it. Stairs scored the game-winning run when Hill drew a bases-loaded walk from Tampa Bay reliever Tim Corcoran.
• Mighty Chris Young. More big drama in the desert, as Chris Young (0-for-4 at the time) homered in the bottom of the 10th to give te Diamondbacks at 4-3 win over the Giants. Arizona's 10th win in 11 games ties it with San Diego for first in the NL West.
• More Chris Young Highlights. The Padres moved ahead of the Dodgers into a tie for first in the West (OK, percentage points ahead) as Chris Young threw seven scoreless innings, Trevor Hoffman got save No. 499, and Marcus Giles singled home the winning run in the ninth for a 1-0 win over Los Angeles.