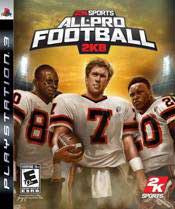 This is going to sound morbid, but we've always wanted the opportunity to play as O.J. Simpson in a football video game. His combination of speed, power and downfield slashing action, we've always thought, would make us unstoppable. And, of course, deadly.
Finally, according to Darren Rovell at CNBC, someone's making it happen. We proudly introduce you to All-Pro Football.
Some of the more interesting names on the list of players you can apparently play with include O.J. Simpson, Mike Golic, Brian Bosworth and Korey Stringer. The game will also feature a unique soundtrack with the work of people I guess I should know including Z-Trip, Slug From Atmosphere, Aceyalone and Casual. The game will be out later this year on Xbox 360 and Playstation 3 and will cost $59.95, which is actually the same price EA is charging for Madden on both those consoles.
We would love to plow over Bosworth with O.J. The game's worth it just for that.
Madden Competitor [CNBC]