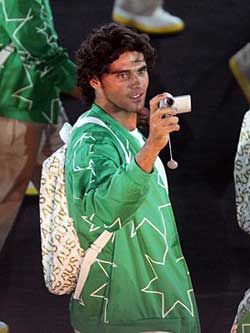 Remember Mark Philippoussis? He was a vaguely douchey tennis "star" who dated Paris Hilton before it set your genitals on fire to date Paris Hilton. (This could be when she was nine.) Well, he has made the next logical jump in his "career;" He's appearing on a dating reality show. That NBC dating show in which old(er) ladies and young(er) ladies compete to date him.
The show is setup so that there are two "teams" of women grouped together by their age. One team is made up of "cougars", women in their 40's. The other is made up of "kittens", women in their 20's. Each woman will be vying for Philippoussis'(who's 30 years old) affection, and the audience will supposedly get to see whether age makes a difference when trying to find true love.
As we've mentioned before, no athletes in sports are dumber than home-"schooled" tennis players. We hope this is one of those reality shows that ends with the lead character being run over by a bus. Wait, have no reality shows ever ended that way? Pity.
Mark Philippoussis Is Holding Serve In The Court Of Love [The Sports Oasis]