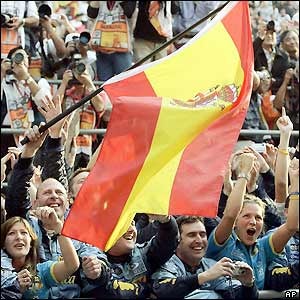 Attention all aspiring songwriters: Spain needs lyrics for its National Anthem. This is especially important considering the Summer Olympics are coming up, and Spanish athletes want to sing, sing, sing! Their fans are tired of sitting there mute during the medal ceremony as the Swiss are belting out rockin' lyrics to the Swiss Psalm. It's very awkward.
Spanish competitors hug, hum or gaze mutely at the sky while their national anthem, known as the Royal March, is played, leaving them at a disadvantage compared to other sporting nations whose anthems have lyrics. Following a suggestion by the Spanish Olympic Committee, the conservative opposition on Monday said it would present a bill calling for a committee to provide lyrics in three months.
So there isn't much time! To get the ball rolling, we've composed a wonderful set of lyrics, which we shall submit after we get the coffee stains out. Click on the music to the Spanish National Anthem here, and sing along. King Juan Carlos I, you're welcome!
A country that is found right there in southern Europe
Hail to Spain, a land so free
Leading exports are fruit, wine, flamenco dancing
Rafael Nadal, we hail to thee
When they drew up the map of what's known as the Iberian Peninsula
Port-u-gal got a small piece of the pie
I see you have six fingers, my name is Inigo Montoya
You killed my father, now prepare to die
(Short interlude for napping)
(Repeat)
Anthem To Get Words So Sportsmen Can Sing [Reuters]
National Anthem Of Spain [The Tropics]