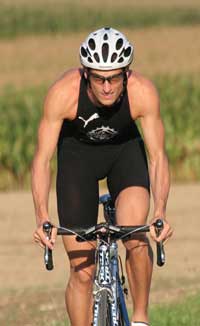 This is Sebastien Gacond. He is a professional triathlete, which is impressive; it must be difficult to be an athlete with three major appendages. He is also not gay. Not gay at all. Nothing gay about Sebastien Gacond. He is all man. It is extremely important that you understand this.
Every day on its site, Outsports features a link to a picture of an attractive male athlete; it does not host these pictures and merely links to them. That might be fine for Tom Brady, Brady Quinn, David Wright or any of the other athletes Outsports has linked to pictures of. But that won't cut it for Sebastien Gacond, because Sebastien Gacond is a heterosexual male. We mean, really heterosexual. So he demanded Outsports take down the link.
"I know that the picture is not hosted on your server. But my name and the link is on your website," he wrote. "Yes I would like to remove it because it's a gay website. I've got absolutely nothing against gay people and the gay community but I don't want my name and image to be link there as I'm not gay ... I've got a girlfriend! When I put my name in a search engine ... what come out in 3rd & 4th is outsports.com!"
Did you hear that, people? Sebastien Gacond has a girlfriend. If you think he's gay because his name is on a gay sports Web site, well, you've got another thing coming. He's not gay. He does it with ladies. All. Man. And absolutely, 100 percent secure with it too.
Triathlete Says He's Not Gay [OutSports]