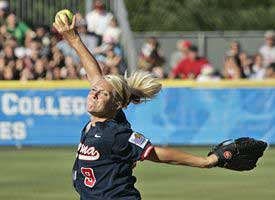 Last night — in ESPN programming we were not watching — the Arizona Wildcats softball team beat Tennessee 5-0 to win the NCAA Championship. One of the fun aspects of NCAA softball is that, if you have one good pitcher, she can just pitch every game. Tarnye Mowatt pitched all 60 innings for the Wildcats, which might have helped. You know what else might have helped? The MySpace message her sister left for her, pregame.
PLEASE do me a big favor and beat tennesse they are sooo hard to look at...lol. Monica Abbot belongs on a farm...as a horse....haha. and the third basemen...dont even get me started with her hair...haha everytime she goes on the screen i laugh and say DIKE! okay okay...i wont be too mean...lol.
LOL, indeed! By the way, if you're like Sebastien Gacond and like to have sex with women, you might note that Ms. Mowatt is attractive.

Hottie Purrrr Kats Hurler Shuts Out Lady Vols for Championship [Mac Gs World]
Tarnye Mowatt MySpace [MySpace]
Guess The U of A Softball Player! [The Big Lead]