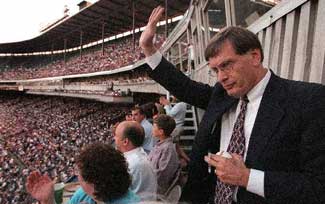 The much-anticipated — really — MLB Draft begins in about half an hour, and we couldn't be more excited. It's gonna be quite the party. Hopefully, you'll recognize ... uh, one name, maybe two.
The draft is on ESPN2, and you can follow along on Minor League Ball and Rumors And Rants. (Baseball Prospectus is all over it as well.) While some people are skeptical that this will make compelling television, The Dugout, as always, has the most brilliant take on how it might go down, imagining Bud Selig in his basement, being bothered by his mother with cookies.
Because we're still taking a little time out from ESPN for a while, we probably won't be watching, but we look forward to our Cardinals taking ... uh ... somebody, we guess.
The MLB Genuine Draft [The Dugout]
You Want Me To Watch That? [Winning The Turnover Battle]