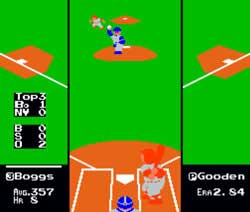 If you happen to be in the general vicinity of the Comfort Suites Airport hotel in Columbus, Ohio this weekend, do we ever have the leisure activity for you: It's 2007 Ohio National RBI Baseball Tournament. Thar's right, kids: For $100, you can play the world's greatest video baseball game in which you can move the squiggly ball left and right while it's in the air. (It's also the only venue in which Jim Lindeman was a legitimate power hitter.)
It's fun to watch modern-day players try to get around the glitches that existed in the original game.
If the "mini pitcher" glitch appears, pitcher is required to press "b" button to get rid of glitch. In the event that there are no base runners (and thus, removal of glitch by pressing "b" will not work), pitcher is required to throw an "a" ball and batter is required to foul it off, removing glitch. If there are two strikes when glitch occurs, then game resumes after foul ball. If there is zero or one strike when game resumes, then pitcher is required to throw the next pitch for a ball. If at anytime the rules in place for the "mini Pitcher" glitch forces the pitcher to walk the batter, the rules will be void (with the exception of the required foul ball to eliminate glitch).
Frankly, if you live in the Columbus area, you have absolutely no excuse not to go to this.
Ohio National RBI Tournament [Official Site]