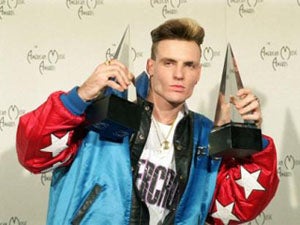 What's coming up in the world of minor league baseball ... we proudly give you Rick Chandler's Minor Enterprise!

Not content with the more pedestrian promotions often associated with the minors, the Long Beach Armada (Independent Golden League) are into the higher concepts. They ask the really big questions, such as: Is there a God? Is there an afterlife? And what is the worst song in the history of the world?
The Armada has decided to tackle the toughest one first. Nominations are now open on the team's site, where fans are asked to offer candidates for the worst song of all time. Voting will commence later this month. It all culminates at Salute to the Worst Song of All Time Night in August, where the top vote getters will be played over the PA system all night, leading to the announcement of the big winner. And don't be too eager to crown She Bangs by William Hung just yet. There are many, many worthy contenders, says Armada General Manager Jay Klein.
"This all started when we were sitting around in a meeting trying to decide on some new promotions," Klein said. "We were discussing the idea of having a '70s or '80s theme night, and we just started talking about all the bad music that came out of those decades. We all had our worst songs, so we decided to put it to a vote. It sounded like something fun and inexpensive."
And believe me, the Armada knows stinky: They're the team that let Jose Canseco pitch last season.
Nominations so far include Disco Duck by Rick Dees, Ice, Ice Baby by Vanilla Ice, and of course When a Man Loves a Woman by Michael Bolton. Mmm Bop by Hanson has the most nominations, followed closely by The Macarena, Karma Chameleon and Billy Cyrus' Achy Breaky Heart. About 150 songs had been nominated by Wednesday. "With some of them I was like, 'Hey, I like that song,' said office manager Ashley Kroger, who is in charge of maintaining the list. "But with some others I was saying "Yes, dear God, that's so awful." The Armada players even got into the act, including votes by pitcher Dane DeLaRosa (Oops I Did It Again by Britney Spears) and utilityman Jeff Larue (Smack That by Akon).
Oh, and as you may have heard, the team's name is now officially "The Long Beach Armada of Los Angeles of California of the United States of North America Including Barrow, Alaska." Yep, it's true. But more on that next week.
After the jump, let's feast on some other tempting minor league promotions, shall we?
• Raider Nation Night. Saturday, June 9, Stockton Ports (Class-A Advanced, California League). Be sure to bring the kids as Raiders' fans from throughout the San Joaquin Valley converge in what is sure to be a celebration of clean fun and good fellowship ... hey, who threw that toilet seat!? Featuring an appearance by the Raiderettes! Banner Island Ballpark, by the way, also features a full service Beer Garden. What could possibly go wrong?
• Antonio Fargas Appearance. Tuesday, June 12, Altoona Curve (Class-AA Eastern League). You know him better as Huggy Bear, the cool cat from Starsky and Hutch who made being a snitch fun again. Plus it's Karaoke Night, so everyone wins.
• Tribute To The Tattoo. Wednesday, June 13, Frederick Keys (Class-A Advanced, Carolina League). We don't know exactly what will be going on at this event, sponsored by Classic Electric Tattoo and Body Piercing of Frederick, Maryland. But we went to their web site and it doesn't look like they're fooling around. When the kids come home from the game with nose rings, don't blame me.
• Owner Of The Week. Nick Lachey, Tacoma Raniers (Class-AAA, Pacific Coast League). Lachey, who has a summer home in Tacoma, owns a one-third share of the team, so come on down and hang out with him and new girlfriend Vanessa Minnillo. And it's not too late to nominate What's Left Of Me in the Long Beach Armada poll. I know I will.
• Uniform Accessory Of The Week. June 4 was Dr. Seuss Night, as the host Lake Elsinore Storm (Class-A Advanced, California League) took on the Lancaster JetHawks. All Storm players wore the stylish hose shown above, which, when I see them, just remind me of this, making me want to punch things. [Thanks to Tim Riley]
• Acquisition Of The Week. A-Rod '04 World Series First Base, Lowell Spinners (Class-A, New York-Penn League). They call it The Slap; the infamous play in the 2004 ALCS in which the Yankees' Alex Rodriguez attempted to slap the ball out of Bronson Arroyo's glove in Game 6. The Spinners recently purchased the base at which the play occurred, and will be using it as first base at Lelacheur Park throughout the season.
• Underwear Department. Results are in from the West Virginia Power's World's Largest Tighty Whitey Race. Thanks to Minor League Dugout for the action photos. It was all great fun, but now I want my briefs back.
• Bobblehead Of The Moment. Bob L. Head, Portland Beavers (Class-AAA Pacific Coast League). The voting is over, and a winner has been crowned in the Great Bob L. Head search. Bob L. Head of Maquoketa, Iowa swept to victory with 51 percent of the vote, claiming the honor of having a bobblehead doll in his likeness produced for an upcoming Beavers game. [Thanks to Ian Bethune and Michael Howell]
We want your minor league tips! Send info on upcoming events, photos, or Justin Timberlake lyrics to RickChand@gmail.com. And thanks!