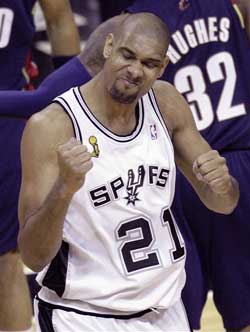 One of the fun aspects of any championship, whether it's the World Series or the Super Bowl or whatever, is that the casual fan who hasn't followed a particular team all season is introduced to a team the devotees have been analyzing all along. The diehard fan is fully aware of his team's flaws and strengths heading into the Finals, and just wants them to perform to the peak of their abilities; the casual fan is seeing a lot of this for the first time.
So anyone who happened across the Cleveland Cavaliers and LeBron James last night, watching them closely for the first time, has to have wondered: Do they always play like this? LeBron had an off night, but he was hardly the only problem; as Pounding The Rock points out, Cavs coach Mike Brown is not doing his team any favors.
It's one thing to be disorganized on offense. NBA players are used to getting by on athleticism and aren't necessarily known for superior cognitive abilities, so implementing an offensive scheme can be difficult. But the Cavs problem wasn't poor organization. They just kept running the same stupid offense over and over and over again. Question: Soes someone set a pick for Lebron James before he gets on the bus?"
Yeah, pretty much! Game 2 is Sunday night; we hope Cleveland takes the time between now and then and, you know, does a little homework. It's the Finals, people; try to look nice, wear a tie or something.
What Are We Supposed to Be Witnessing Again? [Pounding The Rock]
Liveblogging Game 1 [True Hoop]