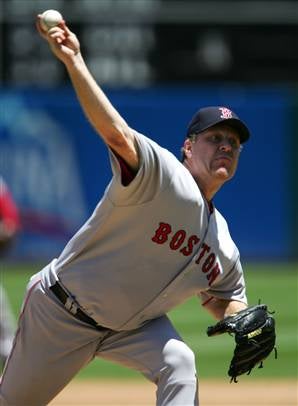 Notes from a day in baseball:
• Oh No He Din't! Al Gore knows the feeling. So too did Robert E. Lee, who, if he had only listened to his second-in-command, Gen. Longstreet, would have skirted Little Round Top instead of trying to take it head-on, thus probably winning the Battle of Gettysburg. Curt Schilling now must live with a similar sting of regret (although sans the stubby beard). Trying to wrap up his first career no-hitter with two outs in the ninth, Schilling shook off catcher Jason Varitek and gave up a clean single to Shannon Stewart. Boston beat the Athletics, 1-0. "We get two outs, and I was sure, and I had a plan, and I shook Tek off,'' Schilling told AP. "And I get a big 'What if?' for the rest of my life.'' And now Sherman and Mr. Peabody remind us that it was on Aug. 28, 2000, that Boston pitcher Pedro Martinez shook off Varitek in the ninth, losing a no-hit bid when Tampa Bay's John Flaherty singled. Weird. Schilling retired Mark Ellis on a foul popout to end the third one-hitter of his career. David Ortiz homered in the first against Joe Blanton (5-4). Boston ended a four-game losing streak. Meanwhile, this is pretty awesome photo, yes? Click on it to get the closeup, which is even better.
• Everyone Loves Round Numbers. Joe Torre's 2,000th career victory came courtesy of a six-run ninth, including a grand slam by Alex Rodriguez, as the Yankees beat the White Sox 10-3. The Yankees now begin a nine-game interleague homestand against Pittsburgh, Arizona and the Mets. On Saturday, Roger Clemens is supposed to make his debut against the Pirates. Are things about to get interesting in the AL East? Sadly, probably not. And now some Ozzie Guillen quotage: "The game came from a big league, well-played game to a fantasy camp game. That's the way I look at it. Those type of games drive you crazy.''
• It's Pat! Well hey, if even Pat Burrell is hitting, there may be hope yet for the Phillies. Burrell's homer in the ninth tied it and Philadelphia went on for a 6-3 win over the Mets in 10 innings. The Phillies are five games back of the first-place Mets and a game behind second-place Atlanta in the NL East.
• Holy Moley! Here's a sentence you rarely see: Russell Branyan drew a bases-loaded walk with one out in the ninth to complete a five-run rally as the Padres beat the Dodgers 6-5. The first-place Padres have won five straight and 10 of their past 12.
• The Most Exciting Play In Baseball. Curtis Granderson's two triples and Gary Sheffield's homer led the Tigers over the Rangers 11-4.