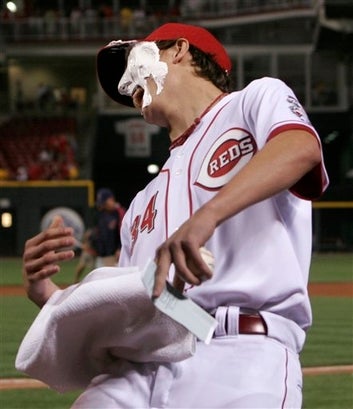 Notes from a day in baseball:
• Homer Bailey's winning MLB debut: To the right, you'll see Reds pitching phenom Homer Bailey, his face loaded with the kind of cream that only comes from winning your first-ever MLB start. It took him 114 pitches to go 5 innings, but his final pitch struck out David Dellucci with the bases loaded and the Reds clinging to a 3-2 lead. Don't bother checking your fantasy-league waiver wire; he's long-gone. More to the point, his name lends itself to putting his debut in context using the most relevant Homer Simpson quote you can think of. For example, apropos for my substitute fill-in today:
"Kids, just because I don't care doesn't mean I'm not listening."
• Alfonso Soriano: Feast or Famine? In this case, it was a feast: Three home runs in his first three at-bats, in a Cubs 9-1 win over the Braves.
• Lance Berkman Loves His Ejections: Berkman was tossed from a game for the second time this week. He already had a two-game suspension pending for the first incident; he might as well just take next week off. Oh, and as Berkman himself noted: "We are 2-0 when I get ejected." Hmm...
• Attack of the Killer Tomato: Olmedo "Killer Tomato" Saenz was the hero in the Dodgers' 4-3 win over the Blue Jays. In the 10th inning, "Killer-T" hit a two-run pinch-hit home run to win the game.
• In honor of Will, a Cardinals note: Apparently, the defending champs are so hard-up for bullpen help that they signed Troy Percival, who hasn't pitched since mid-2005. You might remember Troy from such teams as "The 2002 World Champion Angels" and "The UC-Riverside Highlanders."
— D.S.