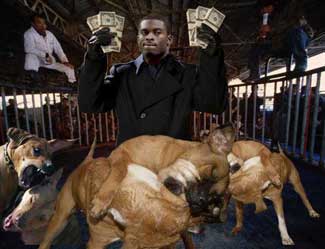 You know it has reached a bad place when there is so much going on you have to put all the new updates in bullet form...
• Vick cancels youth football camp: The good news is that registration is now open for Michael Vick's Youth Dog-Fighting Camp.
• Falcons owner sends out letter to fans: "...[The] current public situation concerning Michael Vick puts us in a particularly difficult spot because of the daily attention it is receiving in the media, and our inability to respond because we don't yet have all the facts with which to deal."
• Bills linebacker Josh Stamer piles on: "I think anyone who involves themselves in [dog-fighting] should be thrown in jail." (h/t: Fanhouse)
• There were rumors — since debunked — that there was a mass animal grave found on Vick's property. But what does it say that everyone was perfectly quick to believe it?
• Vick reportedly had a "dog yard" in South Carolina that investigators are looking into. (h/t: Pro Football Talk)
• The local prosecutor says the Feds joining the fray won't keep him from doing his own investigation. Yes, but perhaps a little comp will inspire him to do his own investigation better.
• And the capper: Vick's cousin, Davon Boddie, says the entire thing is just a conspiracy.
— D.S.