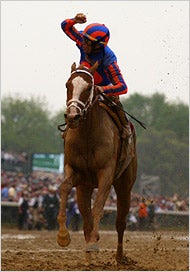 Having already established that Chad Johnson racing a horse at 4:53 p.m. today is THE racing event of the day/week/month, it's a wee bit harder to get excited about the Belmont Stakes.
Technically, Belmont is the "third leg of the Triple Crown," but more accurately described as the "second of the two gimpy legs that come after the Kentucky Derby, when the Derby champ refuses to participate."
And yet: There is drama! A gender battle the likes of which not seen since... eh, OK: The Indy 500 a few weeks ago.
Rags to Riches (seen here) will try to become the first filly (giddyup!) to win Belmont since Tanya in 1905. In total, only 22 fillies have ever ran in the Belmont, making it only slightly less hostile to women participants than, say, national politics.
My pick? Come on: How can you NOT go with the novelty pick? I've got Rags to Riches to win, followed by Chad Johnson to place and Chris Collinsworth to show.
— D.S.
Filly tackles Triple Crown Heroes [139th Belmont]