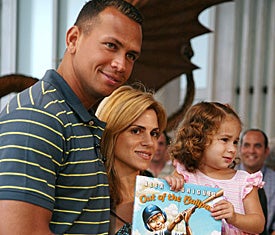 Alex Rodriguez tallied his 497th career homerun during a day/night doubleheader curb-stomping of those pesky D-Rays. The Yankees one won the first game by four runs, a fairly respectable margin. Once the sun went down shit got ugly—17-5 ugly. Luis Vizcaino got the win in both games and Shelley Duncan hit his/her a home run (the first of his/her career) while his/her brother Chris did the same in a losing cause for St. Louis.
• In a related story, both Weaver brothers pitched and looked equally goofy. Older brother Jeff got back to his losing ways for Seattle, but you can't really blame the poor guy. Weaver the elder pitched eight innings four-hit ball but Toronto came away with the 1-0. Josh Towers and three relievers combined for the shutout. Jered went seven strong innings for the California Angeles of Anaheim via Los Angeles only to see his efforts spoiled when Minnesota's Joe Mauer hit a three-run inside the park homer in the eighth. Everybody's favorite middle reliever, Pat Neshek got the win. Yah.
• The Giants took home an 8-0 victory over the Brewers but Barry Bonds went without a homer for the second consecutive day. Of course you don't really need too much offense when Tim Lincecum is on the mound doing Tim Lincecum things. Tim Lincecum!