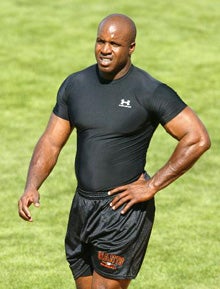 As you may have noticed, Barry Bonds is being held out of the final game of San Francisco's series at Milwaukee (in progress). So it looks like he won't be making any progress towards Henry Aaron's prized record on my watch. Oh well, I'll just have to keep staring at my Arizona State throwback jersey thinking of happier times. I really miss that guy.
In the meantime Barry's lawyer is going to bat for him. Michael "Rock" Rains is directing some serious trash talk in the direction of the would-be federal prosecutors.

"I'll outmaneuver them at every turn," Rains told the newspaper Saturday night. "I've kicked their ass in private, I'll continue to kick their ass in public."

The ball is in The Man's court now. Is he just gonna sit back and take that shit? Even Bernard Hopkins thinks this is a bit much.