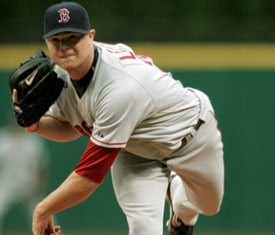 Forgive me for skipping the lovefest that is Bonds vs. Aaron today (no homers, Giants lose to Braves if you must know). All things being equal, I would have much rather attended Boston's 6-2 win over the Indians at Jacobs Field, because Jon Lester started for the Sox, went six innings and earned the win. That may not sound like much until you recall that Lester had to leave baseball with a form of cancer called anaplastic large cell lymphoma, which he has now bested. Monday was his return for Boston.
Let's go to the action: "On a night Lester did his best to hold his emotions in check from the pitcher's mound, his parents let theirs out a little bit more from their seats just a few rows behind the Boston dugout. With the bases loaded and two outs in the bottom of the fourth, Lester reached back for a 93-mph fastball and struck out Grady Sizemore swinging, keeping Boston's three-run lead in check. John and Kathie Lester pumped their fists with excitement in celebrating their son's biggest out in his comeback performance." Boston had staked him to a 4-0 lead in the first, led by Manny Ramirez's two-run double.
• It's A Two-Hanky Day. Aaron Harang returned from his grandfather's funeral and pitched 10 innings, the Reds going on for a 12-inning, 2-1 win over the Brewers. "He wanted to win that game so bad," said catcher Javier Valentin, whose single ended it.
• A Royal Pain In The Hinder. No sooner had the Royals taken their first, tentative steps out of the cellar than they were beaten by Roger Clemens (351st career win) and Alex Rodriguez (100th RBI of the season), the Yankees claiming a 9-2 win; their fourth straight victory.
• D-Train Now Stops Frequently in Stinkville. Remember Dontrelle Willis? He allowed Orlando Hudson's two-run homer in a 4-3 loss to Arizona on Monday; his career-high seventh straight loss.
• The Pride Of Toledo, Ohio. Mike Hessman — fresh off the bus from Class-AAA Toledo — had a go-ahead two-run single with two outs in the seventh, leading the Tigers past the last-place Chicago White Sox 9-6.