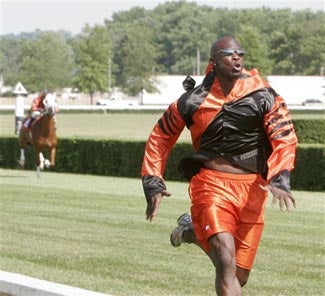 Believe it or not, folks, the NFL season is much closer than you can possibly imagine. So close, in fact, that, if we're going to fit in every NFL team preview by the start of the season, running one every weekday, we have to start this week. So there you have it.
Last year, we asked some of our favorite writers to opine why Their Favorite Team Was Better Than Yours. Ultimately, we found this constrictive, and it also might have killed James Frey. So this time, we've just asked them to just run free, talk about their team, their experience as a fan, their hopes, their dreams, their desires for oral sex. We have two teams left unassigned, so if you've got a jones to write about the Oakland Raiders or the Baltimore Ravens, email us to let us know why you're perfect. But today: The Bengals.
Your author is Robert Weintraub, a freelance TV producer/writer based in Atlanta who writes about sports media for Slate. His words are after the jump.
—————————————-
Let's get this out of the way right off the bat: Yes, the fact that my Bengals have become a symbol for lawlessness is embarrassing. But I think I speak for all hard-core Bengal fans when I postulate that losing the last two games of the season, thanks to special teams miscues, either one of which would have gotten us to the postseason, was much worse. When it comes right down to it, what's more egregious: one oft-suspended alcoholic getting busted for drunk driving while another oft-suspended teammate blows chunks out the window, or missing an extra point to miss out on the postseason? Thought so.
Now that I've established my sociopathy, here are my Bengal fan credentials — I'm from New York, not Cincinnati. I had never even been to the Queen City until 2003. I've been to two home games in my life — the final game of 2003, when a win over the hated Browns would have given the Bengals their first winning record since 1991 (lost), and the playoff game against the hated Steelers, when Carson Palmer had his knee nuked on the team's second offensive play (lost). Until last season, I had never seen the Bengals win in person.
But I've been there, living and dying through every 2-14 season, through Klingler and Akili and Ki-Jana and Dave Shula, through being a national laughingstock because of our record rather than our rap sheet. That's why I can say with the authority borne from suffering that last season was among the worst ever, and not because NFL Films is titling the team highlight video "The Bengals — Live From Folsom Prison."
Lost amid the handcuffs and the dropped holds was the extraordinary performance of Carson Palmer. Somehow, as he was throwing for over 4,000 yards and making Ocho Cinco and T.J. Whoseyourmama into household names, it was forgotten that until last August, it was far more likely Palmer would miss much of the season than be the best QB not named Peyton or Mr. Bundchen. Hell, the talk immediately after The Injury was that Palmer might never play again.
That made last season especially disappointing. Overcoming multiple arrests is nothing compared to overcoming a terrible knee injury to your franchise quarterback. Palmer played every game and had an amazing season, and we went 8-8 and missed the playoffs nonetheless. Even assuming no more injury, the best QB we've ever had (and this comes from someone who still proudly wears both Boomer Esiason and Ken Anderson jerseys) only has so many great years in him. To waste one of his best like that was nauseating, even by Bengals standards.
Cincy has had no losing seasons in the last four. Of course, we've had only one winning season in that stretch as well, going 8-8 three times. But last season felt more like 5-11. During the long offseason, I've occasionally dipped into taped action from the Saints game last year, a.k.a. the only game I've seen Cincinnati win in person. Palmer throws a bomb to Chad on the first drive, and Dick Enberg wets himself in the broadcast booth. "That's the striking power of the Cincinnati Bengals!!" he moans. Unfortunately, we got struck back an awful lot last year, including the last play of the season, a weaving 67-yard touchdown by Santonio Holmes (a 10-times-worse felon than Odell, Henry and O.J. combined) in overtime, a particularly nauseating way to head into the offseason.
The thorn in the Bengal paw has been defense since, well, forever, really, and no amount of Marvin Lewis staredowns and supposed genius on that side of the ball has helped (just goes to show how it's easy to become a genius when you have Ray Lewis and cohorts to play with). If anything, the defense has lost strength with the departures of Kevan Kaesviharn, Shaun Smith and Brian Simmons, though it's not as if we were stopping anyone with those dudes. If you count yourself amongst the football cognoscenti, look to the development of linebacker Ahmad Brooks; if he can overcome his natural thuggishness and rogue shark tendencies to be the baller we spent a supplementary draft choice upon, perhaps the D can match the O for once.
If not, I may join the arrest list after the defenestration of any Steelers or Browns fans I run across.