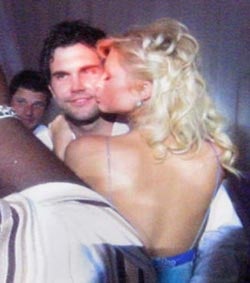 Matt Leinart would like you to know: His baby momma be buggin'. Ahem. That is to say: He respectfully disagrees with Brynn Cameron's assessment that he's never around as a father. Actually, not all that respectfully.
"Regardless of the allegations made, I have gone to great lengths to increase my custodial time with Cole," he says. "This includes seeking intervention from the family law court."

"I don't know if Cole's mother is motivated by anger or by financial gain," he said, "but it is my sincere hope that one day we will be able to effectively co-parent our son who we both love very much."
Well, he might not have said Cameron's name, but at least he got Cole's right. It is Cole, yes?
Leinart Disputes Mother's Claim [Ventura County Star]
Wait, So Whose Diapers Is He Changing Then? [Deadspin]