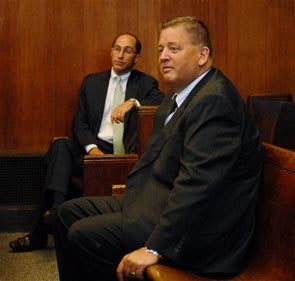 Say what you will about Notre Dame coach Charlie Weis, but you can't say he isn't constantly charging forward. Whether it's recruiting, attacking a Cover 2 or, you know, gastric bypass surgery, the guy makes up his mind and just GOES FOR IT, MAN. Suck Off The Fat Like A Champion. Unfortunately, such single-mindedness doesn't help you in the world of lawsuits.
Yep, our man Charlie lost his suit against doctors he believes botched his gastric bypass surgery. (You can tell they botched it because he's still fat.)
Charlie Weis' bull-headed rush into weight-loss surgery he knew could kill him likely cost him any chance he had at convincing jurors he was a victim of bumbling surgeons, a medical malpractice attorney said yesterday.

John Cassidy, a senior partner at the Boston law firm Ficksman and Conley, said society's "bias towards obese people" could also have contributed to a Suffolk Superior Court jury's finding that Massachusetts General Hospital doctors Charles Ferguson and Richard Hodin were not responsible for the partial paralysis suffered by the former New England Patriots offensive coordinator after gastric bypass surgery in 2002.
Now that this endless media circus and around-the-clock court coverage is over, we can get back to our lives. As if to prove it, Brady Quinn showed up in 45 percent of the post-verdict photographs, doing something silly.
Game Over In Weis Trial [Boston Herald]