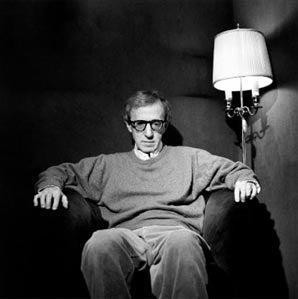 Forgive us, since this post is entirely self-indulgent and has absolutely nothing to do with sports, but when two inmates get in a fight over Woody Allen, well, we just couldn't sleep at night if we didn't write about it.
Because if you can't have serious discussions of Woody Allen films in a Wisconsin prison, where can you have them?
Two Ozaukee County Jail inmates are getting the thumbs down, felony style, from local law enforcement after tussling last week over the off-screen lifestyle of filmmaker Woody Allen. The fight began about 5:30 p.m. July 9 during mealtime when James F. Lala, 31, asked fellow inmate Corey T. Wilson, 36, what he thought of Allen's marriage in 1997 to Sun Yi Previn, an adopted daughter of Allen's longtime companion, Mia Farrow.

"Wilson told Lala that he thought that was perverted," the complaint says. "Wilson stated he continued to eat his meal when Lala came up to him and punched him in the face," and the two began to fight.
This is as valid a reason for a prison fight as we can possibly imagine. We'd have decked Wilson too, though we would have come up with a plucky one-liner about psychotherapy right afterwards.
Two Inmates Brawl Over Woody Allen [Milwaukee Journal-Sentinel]
Waiting For Woody [The Black Table]