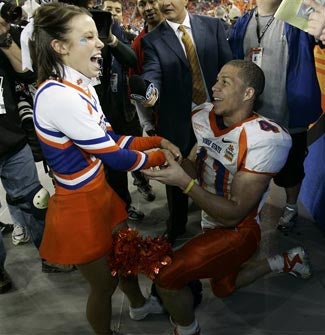 Like many of you, our favorite moment from last year's college football season was the thrilling Fiesta Bowl, in which Boise State beat Oklahoma with the Statue of Liberty play and running back Ian Johnson proposed to his cheerleader girlfriend after scoring the winning points. It was one of those sports snapshots in which it was absolutely impossible not to walk away from with huge dopey grin in on your face. Seven months later, Johnson and the cheerleader are days away from their wedding ... and assholes are doing what they can to ruin the whole damn story.
Turns out, Johnson has had to hire extra security because of racist letters and phone calls.
Johnson said he's received phone calls, 30 letters and, in some instances, personal threats from people who objected to his plans to marry Popadics.



"You take it for what it is — the less educated, the less willing to change," Johnson told the Statesman. "But we're not acting like we're naive to all the stuff that's going on. We know what's been said. We're going to make sure we're safe at all times. It's an amazing day for us, and we'd hate to have it ruined by someone."
Seriously, man: Racists suck. Hey, racists: You're assholes. Knock it off. Christ.
BSU Player Hires Wedding Security After Racist Threats [SI.com]