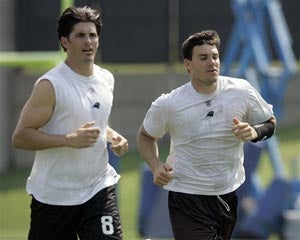 Believe it or not, folks, the NFL season is much closer than you can possibly imagine. So close, in fact, that, if we're going to fit in every NFL team preview by the start of the season, running one every weekday, we have to start this week. So there you have it.
Last year, we asked some of our favorite writers to opine why Their Favorite Team Was Better Than Yours. Ultimately, we found this constrictive, and it also might have killed James Frey. So this time, we've just asked them to just run free, talk about their team, their experience as a fan, their hopes, their dreams, their desires for oral sex. All our teams are now assigned; if you sent us an email and we didn't get back to you, we're sorry, and we accept your scorn. But today: The Carolina Panthers.
Your author is Dave Warner, the man behind Dave's Football Blog and a longtime resident of Durham, N.C. He also writes about the Carolina Panthers for The Fanhouse. His words are after the jump.
——————————-
All was quiet on New Year's Day.
We Carolina Panthers fans had high hopes for another trip to the Super Bowl after a successful 2005 campaign. It was just a few bad breaks, really — little things like losing all our running backs to sudden injuries during the playoffs, or never finding a reliable second receiver beyond Steve Smith. We thought we had found the extra pieces of the puzzle that offseason. We thought we were poised for another Super Bowl run.
Little did we know the heartbreak that was to follow — an endless string of blown 4th-quarter leads, a chronic inability to convert on 3rd down, a series of play calls that even the fans in the stands could predict. It was frustration of epic proportions. Weren't our Panthers supposed to be better than this?
Remarkably, though, they were still just one or two bad plays away from the playoffs. It was just that bad in the NFC. If only they hadn't bothered with that cheeky lateral on that punt return in Minnesota. If only they could have tackled Chris Cooley and prevented that touchdown against Washington. If only they could have stopped the Bengals from converting that 35-yard bomb on 4th-and-1. If only they hadn't called the exact same sideline route that worked before on that last play against the Eagles. If one of those plays had gone the other way, Carolina might have actually played a game in January. Maybe even two.
Alas, if wishes were horses, we'd all be eating steak with our Lombardi Trophies, rather than our usual vinegar-soaked plate of pulled pork and hush puppies. Perhaps it was better this way. A playoff berth might have made everyone overlook that the play-calling was atrocious and the defensive backs always seemed out of place. It wasn't until later that we found out how bad it really was. Our Panthers ran an offense so predictable, it didn't even bother to utilize a hard count. Carolina always snapped the ball on one, no matter what. Really, it was a miracle that they finished .500 at all.
We didn't know much about the new guy when he arrived. We just looked at photos of him and thought, "Holy shit! Silent Bob is running the offense!??" Then the stories started to emerge about the new scheme he was putting together. Steve Smith said it was like moving from coach to first class. DeAngelo Williams said it looked just like his old offense at Memphis — the offense in which he ran for 233 yards on 30 carries in the Motor City Bowl. Mike Minter said the defense was jumping offside a lot more in practice than last year.
Perhaps this was all Carolina really needed. After all, the defense still performed well in spite of being constantly hamstrung by an offense that couldn't keep the ball, and it remains much the same as last year, save for a secondary coach who could help put DBs in the right spots. What if the offense could convert on 3rd down once in a while? What if it could score some points? And hey, isn't it Carolina's turn to win the NFC South, now that New Orleans, Tampa Bay and Atlanta have won division titles over the last three years?
The optimism is returning to the Carolinas again, but it's a bit more cautious these days, a bit more worn after the disasters of 2004 and 2006. Williams and Smith may look poised for huge seasons, but we're not as ready as Sports Illustrated to cry Super Bowl just yet. We want to see this new offense in action before we start believing again.