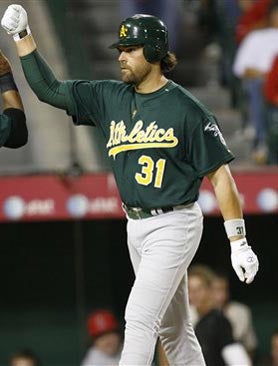 Mike Piazza has suffered through much in his career. One time everybody thought he was gay. He once was traded to the Marlins. Also, one time, people thought he was a gay. It's been a tough life. But now, now he has suffered through the ultimate indignity.
You see, someone someone threw a water bottle at him. And they'll pay: Oh, yes, they will pay.
"I'm pressing charges on him," Piazza said. "It hit me right on the helmet. It's typical. As soon as you turn and confront the guy, he walks out. Just another gutless act. What are you going to do? It's a joke." Piazza talked with Anaheim police in the clubhouse after the game and agreed to walk upstairs to give the police further information.
We certainly do not advocate sending projectiles hurtling toward professional athletes, even Mike Piazza, whom we suspect the fan was just trying to remind that he was due for another dye job. But you have to love Anaheim; they don't throw beer in Anaheim, they throw bottled water.
Piazza Plans To Sue Angels Fan [San Jose Mercury News]