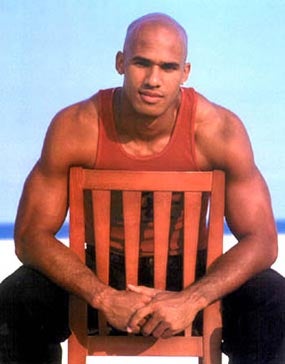 Believe it or not, folks, the NFL season is much closer than you can possibly imagine. So close, in fact, that, if we're going to fit in every NFL team preview by the start of the season, running one every weekday, we have to start this week. So there you have it.
Last year, we asked some of our favorite writers to opine why Their Favorite Team Was Better Than Yours. Ultimately, we found this constrictive, and it also might have killed James Frey. So this time, we've just asked them to just run free, talk about their team, their experience as a fan, their hopes, their dreams, their desires for oral sex. All our teams are now assigned; if you sent us an email and we didn't get back to you, we're sorry, and we accept your scorn. But today: The Miami Dolphins.
Your author is John Bolster, the sports editor of Penthouse magazine. His words are after the jump.
——————————————
The title of Worst Offseason 2007 unquestionably goes to the Atlanta Falcons, but running a very close second, and lost in all the fur-flying Michael Vick coverage, is the once-proud Miami Dolphins franchise.
The Dolphins—who own the only undefeated season in NFL history and 12 division titles; who have made five Super Bowl appearances and won two championships; who produced the winningest coach in NFL history (Don Shula), the most prolific passer (Dan Marino), and nine Hall of Famers—were already in the midst of the longest playoff drought in franchise history (five years, and counting). Then things went from bad to worse to elephant-excrement-propelled-into-industrial-fan horrible.
First there was the soufflé-like collapse of last season, which the Dolphins entered as a glamour darkhorse pick based on their six straight victories to close out the previous season ... only to lose six of their first seven games and finish dead last in the AFC East at 6-10.
That was bad. But it was only the beginning.
In fact, my younger brother who—as documented in last year's Deadspin Dolphins preview—takes these things much harder than I do, has been stuck in Stage 1 of the Kubler Ross stages of grief since late 2006.
It's kind of creepy—the whole thing has just jammed up his processors. He hasn't gotten angry or depressed yet—he's just been jabbering away in denial for months now:
Here he was in January:
"Nick Saban would never ditch Miami for Tuscaloosa! He's been saying for weeks that he has no interest in the Alabama job. How can he expect players to be accountable if he's not? Please. He's not going anywhere."

And in April:
"You cant tell me we would draft a return guy—an injured return guy—with the ninth overall pick. We've had quarterback problems since Marino left, and Brady Quinn's available, for chrissake. What, you think the front office is full of morons?
And in July:
"There's no way the Culpepper deal ends as an exploding trainwreck, with him only seeing action in four games before he leaves—quoting Gandhi, no less (1)—and we get absolutely nothing in return for him. That would be an embarrassment, and of course it could never happen."
It's a fascinating defense mechanism—just total denial. But since I'm marginally more well-adjusted than my brother, I have managed to accept these painful realities and have moved on.
Yes, those terrible things did happen, and yes the Phins went out and got a 37-year-old quarterback (Trent Green) with a history of concussions to put behind an O-line that could be charitably described as "the most prominent area of concern for the team." Green is one big hit away from calling it a career (or worse), and he'll be "protected" this season by a line featuring five new starters, all of them mediocre at best, and one of them a rookie (Samson Satele). Sweet.
And there was more: Step off Cincinnati Bengals—the Miami Dolphins moved to the top of the leaderboard in player arrests this offseason, racking up four, including a DUI for their top receiver (Chris Chambers), an assault charge for their "prized" free-agent acquisiton (Joey Porter), and a memorable turn by Fred Evans (since waived), who had a dispute with a cab driver and—speaking of Gandhi—exercised his right to passive resistance by refusing to get out of the cab when police arrived. This led to the tasering of his ass by the cops, a few thrown punches, a bite or two, and the creation of this deranged-looking mug shot.
Godspeed, Fred Evans.
Yes, it was a poor off-season for the Miami Dolphins, and I'm using Webster's oft-overlooked sixth definition of 'poor,' which reads, 'outside of tragic deaths, capital crimes, or the outright collapse of the franchise, it could not possibly have been worse.'
But you know what? I cycled through anger:
(Yes, "Boo! Cam Cameron, Boo!") (And why does Cameron keep talking about Ginn and his family? Does he have a speedy brother who's included in the pick?);
I bargained (Just let them win eight games); and I was depressed (Who wants to spend Sunday afternoons indoors anyway? Screw football).
But now, with the season just weeks away, I've broken through to the blissful state of acceptance, as bright and warm as the South Florida sun. It's going to be okay. I know this because my expectations are now so low that any kind of success at all will feel like a triumph.
And hey, Miami still has a damn good defense, anchored by 2006 Defensive Player of the Year Jason Taylor, All-Pro linebacker Zach Thomas, and Porter, who promises to avoid blackjack tables for the entire season.
Other factors have helped the healing process, too: The Dolphins have a mercifully weak schedule this season, their opponents clocking in with a .512 winning percentage, one that ESPN's John Clayton says could drop down to .477 "just going off schedule adjustments." I have no idea what that means, but if it makes the going any easier for Miami, I'm all for it.
I've also sustained myself on the hope (faint) that running back Ronnie Brown will start playing like a No. 2 overall draft pick should play, or the possibility (remote), that Green will be effective and stay healthy, or that Ginn (and his family) will break off a few touchdown returns—and possibly even contribute as a defense-stretching wide receiver. Lastly, our backup QB is Cleo Lemon, who clearly was a 1920s Blues musician in another life. That or a Negro League legend.
I've told all of this to my poor deluded brother, but to no effect. I even tried to break him down with humor, telling him, "Hey, failing all the potential bright spots, there's always the chance that Ricky comes back to make things interesting again.
"Comes back?" he said. "You mean Ricky left?"
FOOTNOTE
(1). Culpepper after parting ways with Miami: "As I was going through this process, I heard about a quote by Gandhi that best expresses my thoughts about this victory [being released from the team]. He said 'First they ignore you, then they ridicule you, then they fight you, then you win.'