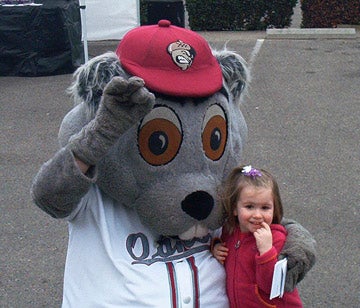 Time once again to check in on the world of Minor League baseball. It's Rick Chandler's Minor Enterprise!
On seeing this photo, my first reaction was to dive in and rescue the little girl from the terrifying, giant rat. But no, evidently it's a squirrel. This is how the Visalia Oaks (Class-A California League) described their mascot, when they were advertising for someone to wear the suit:
"Chatter, a lovable squirrel is the face of the Oaks in the ballpark and at many community events around Visalia. The Oaks' #1 squirrel, Chatter hangs out with kids, fans and likes baseball. What will your personality add?"
Um, lawsuits?
But thankfully I was not chosen. Whoever is in there is now delighting fans with his loveable antics, which must be a pure joy to watch. Hmm, I wonder ... how many people do you suppose Chatter has murdered? Wait, what's that sound? "Chatter? Chatter ... NO!"
Following the jump: You, too, can win a red Swingline Stapler ... and the thrill of mustache competition!
Fun promotions this week:
• Case Of The Mondays. Monday, July 30. Brevard County Manatees (Class-A Florida State League). In what I believe to be a stroke of pure genius, every Monday at Space Coast Stadium is Case Of The Mondays, in which one lucky fan wins not only a case of delicious Coca-Cola, but also treasured items from the film Office Space. Included will be a miniature red Swingline Stapler, an Initech Coffee Mug, a 'PC Load Letter' sticker for your office's printer, some 'flair' and other stuff. So if you could just go ahead and come on down to the park on Monday, that would be greeaaat.
• Syracuse's Best Moustache. Sunday, July 29. Syracuse Chiefs (Class-AAA International League). Chiefs staff will scour the stands for awesome mustaches, and four finalists will be chosen for a mustache face-off during the eighth inning. Plus, Sal Fasano autographed bats, and $1 moustaches painted onto your child's face! It all culminates with the crowning of the Finest Mustache In All Of Syracuse winner, whom Bush will then try to appoint to the Supreme Court.
• Awful Night V. Tuesday, July 31. Altoona Curve (Class-AA Eastern League). Among the awful events this night are the mascot race which has no finish; a dry slip-'n-slide, and the ever-popular and frustrating helium balloon toss. And be sure to stop by the snack bar for a liverwurst-and-whipped cream sandwich. Plus, sporks will be given away, and there will be a post-game "Laaser Show" which will consist of Altoona Curve staffer Jon Laaser dancing with glow sticks. [Thanks to Benjamin Hill]
• Best Of Borat Night. Wednesday, Aug. 1. Fort Myers Miracle (Class-A Florida State League). This seems somewhat late to me (you may as well have a Salute to Anchorman Night), but what the heck, I'll play along. "I like sex! Is nice!"
• Simpsons Night. Thursday, Aug. 2. Lake Elsinore Storm (Class-A California League). Not only is it Simpsons Night, but it's also Thirsty Thursday (Woo Hoo!). One beer per customer (DOH!).
• Bobblebelly Of The Moment. El Guapo Night. Nashua Pride (Independent Can-Am League). A reader reports from the heart of the action: "Here's what the Rich Garces "Bobble Belly" looks like. It was given away to Nashua Pride fans as part of "El Guapo Night." Garces came in to close the game with his team up 7-5 in the ninth, gave up a home run on the first pitch, and allowed two more runs to blow the game, which kind of put a damper on things." [Thanks to Mortimer Zeising]
• Bobblefoot Of The Moment. Tuesday, July 31. West Michigan Whitecaps (Class-A Midwest League). Of all his body parts, the great Ty Cobb was most proud of his feet; which he used to spike his opponents with apparent impunity. Now you can recreate the bloody basepath havoc in your own home, if, that is, you are one of the first 1,000 lucky fans to arrive at Tuesday's game against the Peoria Chiefs, where you will receive your very own Ty Cobb Bobble Foot doll.
We need your Minor League tips! Send any photos, game reports, promotion news or notes on squirrel activity to RickChand@GMail.com. And thanks!