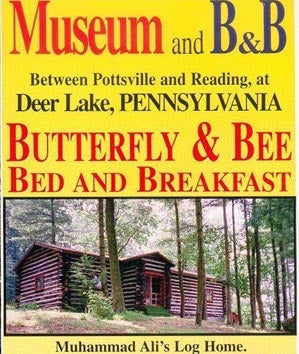 It's not very often you can buy a legitimate piece of history via eBay. But the Muhammad Ali "auction" page that just went up there, whether you could be a serious buyer or not (and trust us, you can't), is worth reading just for the jaw-dropping import of it.
Apparently, they're selling Butterfly & Bee Bed and Breakfast, which once served as Muhammad Ali's celebrity training camp. And you want a place with some stories to tell ... this is it.
This camp is full of personal Ali history/memorabilia reflecting his bright and monumental career. Photographs adorn some of the walls...photos that depict the Champ in training and some of the many celebrated athletes, movie stars and other accomplished people who visited Muhammad at the camp. There are many objects within the camp that would have great collector value, were they to be separated and sold. Fortunately, they remain intact and come with the property. They range from desks and dining tables and other furniture used by Ali, to uniquely personal items. It even includes Ali's original, signed deed.
It also features rocks that were painted by Ali's father, dabbed with the names of other famous fighters. Whoever ends up buying this thing needs to turn it into a museum we can all visit.