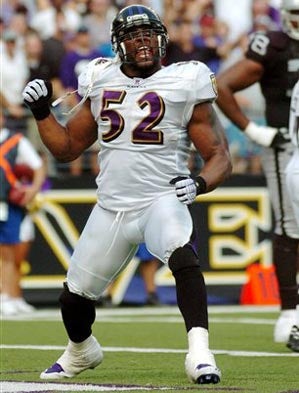 Believe it or not, folks, the NFL season is much closer than you can possibly imagine. So close, in fact, that, if we're going to fit in every NFL team preview by the start of the season, running one every weekday, we have to start this week. So there you have it.
Last year, we asked some of our favorite writers to opine why Their Favorite Team Was Better Than Yours. Ultimately, we found this constrictive, and it also might have killed James Frey. So this time, we've just asked them to just run free, talk about their team, their experience as a fan, their hopes, their dreams, their desires for oral sex. All our teams are now assigned; if you sent us an email and we didn't get back to you, we're sorry, and we accept your scorn. But today: The Baltimore Ravens.
Your author is Jeff Mason, a former writer for Covers.com and current freelance writer. His words are after the jump.
———————————————
The Baltimore Ravens lost four games by a combined total of 27 points last season. The Super Bowl Champion Colts lost by 27 points against the Jacksonville in Week 7.
To say the Ravens flew under the radar at 13-3 last season is like saying Willis McGahee has a decent paternity lawyer. Baltimore won five it of its last seven games to close out the season and survived a stretch that included three straight games against San Diego, Indianapolis and New England.
All three of those teams overshadowed the Ravens last year, and they finished with a whimper when they could muster just 244 total yards against the Colts in the second round of the playoffs.
I came across the Ravens late in life; in 2000 when my favorite team, the Buffalo Bills, were on the verge of yet another disappointing season. Nine weeks in, I decided I would commit the ultimate act of sports bigamy: pick a backup team to follow for the rest of the year.
A 4-4 Baltimore team with the fewest points allowed in all of football caught my eye. I decided that defense wins championships and therefore they would be my team. Turns out I was 100 percent right. The Ravens didn't lose a game the rest of the way and won the Super Bowl. It is the earliest I have ever picked an underdog champion in any sport.
Fast forward to 2007. My favorite player, prophylactic-ly-challenged McGahee, has left my wife and is now playing for my mistress. After years of cheating, it appears to be the perfect time to cut the old ball and chain for good.
The Ravens are favored to win the AFC North again this year at +165 and are behind only the aforementioned Big Three to win the entire AFC at +1164. This all comes despite losing arguably their best defensive player during the offseason. Adaluis Thomas bolted to New England, inching Bill Belichick nearer to his dream of a defense composed solely of linebackers.
Thomas was as versatile a player as there was in football. He played everywhere on the field for the Ravens, from defensive end to cornerback. He even fluffed Ray Lewis' man fur in his spare time.
He is the only starter not returning to defense that allowed the fewest points and the fewest yards per game in all of football last season. Combine that with a Jamal Lewis-for-McGahee upgrade and a returning group of wide receivers with another year of work under Brain Billick and Steve McNair.
In the end, the offense rests of the oft-injured shoulders of McNair, who is being held together of duct tape and chewing gum at this point. It is a little-known fact that the Ravens drafted Troy Smith out of Ohio State in this season's draft not as an insurance policy, but for spare parts. Billick is ready to literally replace some of McNair's ailing body parts with the 23-year-old Smith's if that's what it comes to.
So yeah, the Baltimore Ravens should be pretty good this year. Ten out of 11 starters returning on the league's top defense and an offense that rests on the health of 34-year-old quarterback with his own personal stretcher and a potent running back with whose defining moment can be seen on the from cover of the "Sports Greatest Injuries" DVD.
Yup... sounds like the Ravens to me.