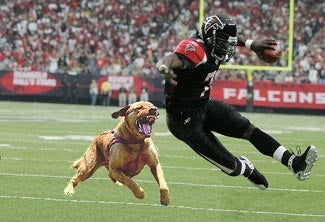 explains Beckham to us much better than we did to the world.
• Careful of what cars you steal.
• One more time: Gay Yankees.
• We live blogged a guy talking into a microphone.
• Stop the ESPN Motion.
• Matt Leinart says he's a great dad, and even remembers his kid's name.
• Our NFL Season Previews began.
• Who has Donaghy fever?
• Please, Deion, tell us more. Don't stop.
• Seriously, screw off, racists.
• When backboards rebel.
• Jeff Pearlman minces few words.
OK, that'll finish 'er off for us. Your weekend prospector is JE Skeets, a handsome rapscallion. We'll be back at you Monday, after the Cardinals have swept the Brewers and got right back in this thing. Yep. Totally. See you then.