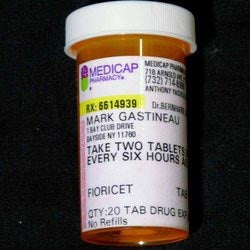 From the People Will Auction Anything Online file ...
At "Vintage Authentics," some auction site we've never heard of, you can buy a prescription bottle for Mark Gastineau. To quote:
This original personal prescription bottle for Floricet was prescribed to former NY Jets defensive end Mark Gastineau with his name and address appearing on the bottle. Floricet is a medication used to relieve complex tension headaches.
Bidding is stalled at $25. We cannot figure out if that's a good price or not.
Lot 206: Mark Gastineau Prescription Bottle [Vintage Authentics]