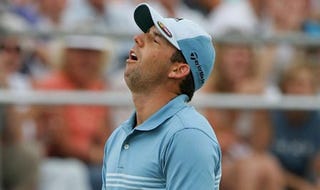 Have we picked on Sergio Garcia enough this weekend? Indeed we have, but just as you can never have enough bacon, you can never try hard enough to destroy the psyche of an athlete whose sport is 90 percent mental. But maybe we don't need to do any of the work. The Sports Elitists recounts a Sergio Garcia story from back in May at the Memorial Tournament in Dublin, Ohio.
Apparently Garcia picked up a young girl that attended The Memorial and went on a date with this girl and her hopefully equally attractive friend. Afterward, he took one of the girls home and they proceeded to ... um, play Skip-Bo? I don't really know what a guy and girl do when they're alone at night. Hopefully they didn't go back to her place, because afterward he likely would have been chased around by Judge Smails with a golf club.
But perhaps this explains Garcia's mind wandering as he signed the wrong scorecard yesterday. If I may conjure up a rumor out of nowhere: Garcia had a tawdry fling with an Oklahoma State University co-ed he met during a practice round. Days later, the OSU student in question had just broken up with Boo Weekley. It all makes sense.
Profiles in Courage: Sergio Garcia [The Sports Elitists]
Sergio Garcia Struggles With Remedial Math [Deadspin]