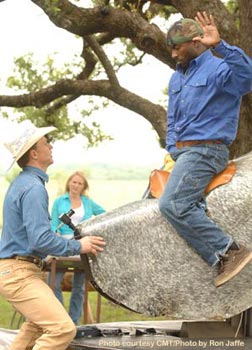 The man you see on the right, riding the large coconut wedge is former NFL wide receiver Raghib Ismail, and he's just one of nine celebrities partially recognizable names partaking in a reality-based TV show called "Ty Murray's Celebrity Bull Riding Challenge." (Note: When "celebrity" and "reality-based TV show" are used in conjunction, they neutralize each other)
Among the other participants: Vanilla Ice, Stephen Baldwin, Leif Garrett and "Nitro" from American Gladiators. I am particularly optimistic to see a bull race through a three-dimensional Tetris arena, firing toy guns at a painted gong above Nitro's head. But that's why I set myself up for disappointment.
Bull riding expert Ty Murray gives these sorta-kinda-but-not-really famous people a 9-day intensive training course on how to ride a bull, and apparently there were a few hospital trips, one of them being Stephen Baldwin. Thankfully, Baldwins bend but don't break.
The show began Friday, and Murray won't say who wins the competition, just that nobody was happier than old timer Billy Slater.