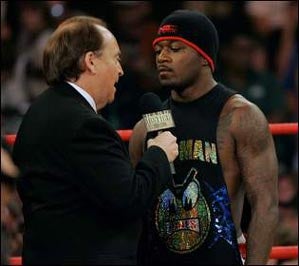 Far be it from us to impugn the trustworthiness of professional wrestling, but when a court order comes down saying that the headliner of your pay-per-view event "could not touch or be touched, grapple, shove, throw or have anything thrown at him by anyone working for or watching the show," well, we're probably not gonna order your pay-per-view. No offense.
Anyway, Pac Man Jones made his "wrestling" "debut" last night, and it was ... well, it happened.
"Your contract won't allow you to touch or be touched. Ain't that a (expletive),'' Ron "The Truth" Killings yelled to Jones. "We don't have to worry about you whipping no one's (butt) around here. You better watch your back, Pacman.''
Amusingly, Jones left the event in a neck brace because of a backstage, off-camera "fight." At least nobody blew up his car.
Pacman Jones Gets 'Injured' Without Wrestling [The Tennesseean]