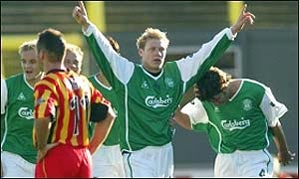 You know, if you can't trust a soccer player to behave himself during an orgy with his teammates and prostitutes, sheesh, who can you trust?
Birmingham City, one of the teams recently promoted to the EPL, has a player named Gary O'Connor, and to celebrate the start of the EPL season, he and his fellow BC buddies had a bit of shindig. They would have gotten away with it, too, if it hadn't have been for the fact that they're assholes.
The orgy turned ugly when £2.7million-rated O'Connor—whose pregnant fiancée Lisa is expecting their second child—pulled one of the vice girls by the hair and swore at her after she had stripped off ... The girls had intercourse and oral sex in the suite, on the bed and in the bathroom. Afterwards they returned to the club where they worked and complained to regulars about the way they were treated."
Soccer players, seriously, they're so cute: Where the heck is Birmingham City, anyway?
Make It Drizzle, Playboy [Deuce Of Davenport]