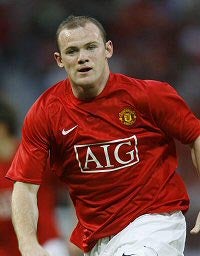 David Hirshey writes regularly for Deadspin about soccer.
While I harbor no love for his team or his coach — who, until the Special One came along, was the most insufferable blowhard in the Prem — I take no great joy in Wayne Rooney's latest mishap. (OK, some joy: I like the irony that England's two biggest soccer brands— Beckham and Rooney — are both doing their Heather Mills impression at the same time.) As if he hasn't suffered enough, what with those huge gambling debts and the whole grannies-in-the-brothel-thing , the lad just can't catch a, um, break.
Not for a second after he limped off holding his shoe at halftime did I think:
a) a Rooney-less United is good for Arsenal;
b) let's hope he doesn't heal until AFTER England's Euro Cup qualifier against Israel;
c) That's karmic payback for ManU's role in the sordid Carlos Tevez saga;
d) Put down a $100 bet at Ladbrokes on Tevez to be the Prem's leading scorer;
e) all of the above.
(more after the jump)
No, that is just the kind of churlish behavior I have vowed to eschew this season. After all, as my friend Stevie Q, a Chelsea fan, used to say to me "It's a small man who measures himself by the things he hates."
Or, to put it another way, the world would be a better place if we got rid of all the anti-Spurites.
So there will be no gloating from me about Tottenham losing at the death to newly promoted Sunderland. It's a shame, really, that the gazillions Martin Jol spent on new players to get the Spurs into Europe for the first time since the Berlin Wall fell could not overcome a bunch of plucky Cats who this time last year were being scraped off the bottom of the Coca-Cola Championship.
Nor was I the least bit pleased that Chelsea fell behind 1-0 at home to newly promoted Birmingham City and might have had to settle for a draw had it not been for some AYSO goalkeeping on the part of City's Colin Doyle. (All right, I did have a flashback to Essian's thunderbolt against Arsenal in the Carling Cup, and thought if he had hit it as meekly as he did against Birmingham, Lehmann might have saved it ... but I'm only human.) And thank God that Drogba was not seriously injured — how great was it to see him running around with his head swathed in a bloody bandage like the Spirit of '76? — because he's so vital to Chelsea's fortunes.
So intent am I to spread harmony throughout the Prem, I didn't even resent Sven-Goran Eriksson's triumphant return to English football at the expense of my SECOND favorite team, West Ham United. It's truly remarkable what ol' Sven has done in assembling a team of the Best Players You Never Heard Of That Money Can Buy in just a few short weeks at Man City. Let a more cynical man than me point out that this is the same clueless Swedish horndog who shagged his boss's secretary (let he who is without sin bicycle-kick the first stone?), was duped by a tabloid reporter posing as a fake sheikh and guided England to the heights of mediocrity by over-relying on his sainted troika of Beckham, Owen and Lampard. Of course, City's 2-0 win could have had something to do with how crap West Ham was. The Hammers looked as if they hadn't gotten the news that they were still in the Prem and not in the Championship, where some mean people from Sheffield thought they belonged for THEIR role in the Tevez fiasco.

But nothing tested my newfound generosity of spirit more than the first 51 seconds of Arsenal's game against Fulham. For one thing, it was SEVEN o'clock on a SUNDAY morning when I turned up at Kinsale, and because of New York's antidiluvian drinking laws, you couldn't get a drink for FIVE HOURS, although it should be pointed out that I had anticipated this the night before and compensated as well as I could.
For another, ever since he cost us the European Cup two years ago, I've been waiting to say Auf Wiedersehn to Lehmann. So when he handled Clichy's back pass with all the aplomb of a Special Olympian, it took every ounce of my self-restraint not to yell ,"You stupid fuckin' Kraut" at the screen.
But that was the old me. The new me just muttered "Tough luck, son, chin up." God, how agonizing those next 80 minutes were. For a while, as the Gunners pinged the ball around at the edge of the box. perhaps under the impression it was the number of passes, not goals, that counted, I thought I had time-traveled back to last season except for one thing; There was no sulking Frenchman in an Arsenal shirt to rescue us with a flash of genius. Oh, Rosicky, Hleb and Van Persie all buzzed with menace at various times, but Arsenal owes its victory — and Lehmann his life — to a couple of Americans.
Let's face it, had Bocanegra not body-checked Toure as the Ivorian defender came hurtling into the penalty area, and had Dempsey not screwed his shot wide with the goal at his mercy in the 77th minute, I might not be in such a forgiving mood today. As it was, I bought a round (Leitch, you owe me $2,674) for all the Deadspin degenerates at the bar (we were honored by Cardillo's presence, but lose the do-rag, ok?) except for one. Mid-Table Mikey could not bear to watch the end of the Arsenal game after the tragedy that befell his beloved Spurs against Sunderland. But, given his pain, we raised a glass in his honor anyway. All together now: Here's to Relegation-Zone Mikey!