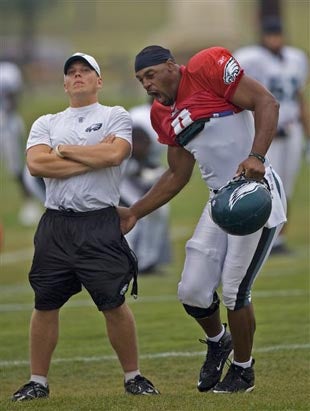 Believe it or not, folks, the NFL season is much closer than you can possibly imagine. So close, in fact, that, if we're going to fit in every NFL team preview by the start of the season, we have to go this early. So there you have it.
Last year, we asked some of our favorite writers to opine why Their Favorite Team Was Better Than Yours. Ultimately, we found this constrictive, and it also might have killed James Frey. So this time, we've just asked them to just run free, talk about their team, their experience as a fan, their hopes, their dreams, their desires for oral sex. All our teams are now assigned; if you sent us an email and we didn't get back to you, we're sorry, and we accept your scorn. But today: The Philadelphia Eagles.
Your author is AJ Daulerio, who writes the Cultural Oddsmaker column for this fine establishment and is a staff writer at Philadelphia Magazine. His words are after the jump.
———————————-
The two most pressing questions facing the Eagles this season are simple:
1) Will Donovan McNabb's balky legs hold up ?
2) Most important, how involved will Andy Reid be this year, considering his family troubles?
Injuries happen, obviously, and the Eagles have been prepared to handle most situations, including the loss of a franchise quarterback for significant stretches of time, three out of the last four seasons. Last year, McNabb's injury seemed to be the death knell for a promising year, especially since he was, at the time of his injury, on track to be the best quarterback in the league. But even before he was injured, the Eagles hit a standstill. Their defense suddenly looked old. Their offense looked inept. After 12 weeks of slumbering capped off by a performance against the Colts which saw them give up, oh, 9 jillion yards on the ground , it was obvious that problem needed to be solved. So Dawkins woke up, Trotter took a breather, Michael Lewis took a seat, and suddenly, holes were clogged, sacks were made and a defense that played on its heels for the first half of the season was suddenly rejuvenated.
They ran the ball more, and Brian Westbrook started showing just how invaluable he is. And, yes, Jeff Garcia did his part as well. That homo always has a seat at the Daulerio table.
But the majority of that salvation came through coaching. And Andy Reid had to devote an enormous amount of time into that type of tinkering to save a season that was quickly headed to Shitsville. That overtime came at a price: At home, his family was imploding and, most likely, he didn't know the severity of it until it was too late. With two sons facing some serious personal and legal issues this year, it's obvious Coach Reid has to make a priority shift and delegate some responsibility. Unfortunately, that added responsibility will most likely fall into the chunky lap of Eagles assistant head coach Marty Mornhinweg . If Mornhinweg doesn't try to think too much, I'm surprisingly comfortable with him stepping up and taking a little more control. Hopefully, Jeffrey Lurie will keep on top of him every single day by simply handing him a sheet of paper that states "No, Marty, we don't want the wind." In fact, as soon as there's an overtime situation, Mornhinweg should be dragged off the field by security, duct-taped and not released until the game is completed. Or, at least, until after the coin toss.
My mother and father went to training camp in Lehigh again this year. My father, emboldened with a sense of responsibility thanks to the favorable response he received from last year's preview, did his best to come up with even more of his thoughful on-the-scene reporting and cogent analysis.
"I tried to get hit in the head with a football," he said. " This girl got hit in the head when Akers was kicking field goals, and they gave her the ball. So I stood behind the goal posts for a while trying to get hit."
Thank you?
"No problem. I didn't get hit, though. So, I didn't get a ball. I was talking the cheerleaders though. Two of them were African-American. One of them was a real dazzler."
Good for you. So, any stand outs from camp so far?
"We saw that Jean-Claude guy again. He's feisty."
Max Jean-Gilles. Right.
"Yeah, and Sheldon Brown almost put a hit on Hank Baskett like he did to Reggie Bush last year. He let up though. He probably would've killed him."
That's good...
"I really was hoping for something out of Bunkley. But he seemed like he was getting man-handled every time he was out there."
Right. But Eagles PR hand-job Dave Spadaro thinks otherwise.
"Really? I should read that. Oh, and your mother took pictures."
Great!
Anyway, mom's not Annie Liebowitz. Most of the photos she took from their day at camp looked like this:
That's my father in the sweet hat. I'm hopeful this junk removal company sees his raw potential as a spokesperson.
Regardless of the photos, he made an effort. And efforts like this should be rewarded. I could only think of one reward suitable enough for him:
MAMULA...
Yes, that is a photo of yours truly and one Mike Mamula, who is inexplicably dressed in a tuxedo. I found Mamula at a Lonestar Steakhouse inf Voorhees, N.J. We had an early dinner together last night. Needless to say, I had trouble keeping my head from exploding the whole time, thanks to the dumbfounding surreal nature of this situation.
"Iced tea or coke?" that was the first thing Mike Mamula said to me. We sat down and with the country music playing, the Jersey August mugginess, the restaurant seemed even emptier than usual at 4:30 in the afternoon. Empty in spirit, that is. And then, there was Mamula: Smiling, affable, seemingly ready to hang out for an hour and answer questions that I, idiot Eagles fan, assumed he gets asked all the time. Like "Do people treat you badly in the city? It seems like everybody dogs you?" and watched him respond to dopey remarks like "You know, if you did take steroids, it probably would've given you that extra second to sack the quarterback...". Yep.
And, Mamula, sitting there, in a tux, about to go judge a local Dancing With the Stars contest didn't even flinch. If he does get these questions all the time, he doesn't care. He's got a gorgeous wife, twins, a house in the Main Line, and, apparently, all the self-respect in the world. Nothing I said was going to impact him at all. Half of our conversation didn't even involve any pertinent journalism-y questions. We just...talked.
I even told him about how my father used to call and bash him on 610.
He smiled. "He's passionate!" Mamula said. Then he offered to go out to his car, get a photograph and sign it for him.

Mike Mamula, MAMULA, is probably one of the most genuinely kind people in the world — and I'm not saying that just because he could break me in half with his thumb. Okay, maybe a little bit. But, honestly, he was very generous with his time and patiently sat there as I stammered through some annoying questions. He even talked about the infamous junk-showing incident that allegedly happened in Lehigh during the summer of 1997. Kind of. The more formal q-and-a style interview can be seen over at PhillyMag.com tomorrow.
Yes, I've started blogging on a somewhat regular basis at The Daily Examiner. Philadelphians, please stop by whenever you can. We'll walk through this crazy season together...