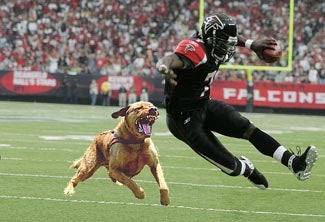 One thing we're not necessarily looking forward to, if it comes to that, is a Michael Vick trial. We already have read all the gory details and aren't necessarily eager to see them rehashed in gruesome detail, with pictures. And these trials inevitably involve a bunch of lawyers talking to each other in ways we don't understand while Vick sits impassively in the back. (They probably won't let him doodle on his PSP.)
Well, we might be in luck. Vick appears to see the writing on the wall. His co-defendants are testifying against him, and any potential jury pool clearly is not gonna be leaning in his direction. (If they're white, anyway.) Therefore, he could be considering a plea agreement.
Sources told ESPN's Kelly Naqi that Vick attorneys Larry Woodward and Billy Martin met with federal prosecutor Michael Gill and the investigators on Monday afternoon. The attorneys planned to speak with the quarterback in the evening to see what direction he wants to go in.
They say he has until Friday to decide, or the appropriate trial documents will be filed. So, it's possible this could be over faster than we realized. There might be no place left for Vick to scramble.