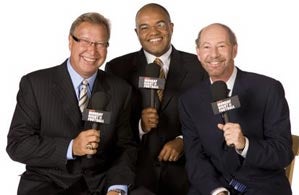 So we were watching ESPN's "Monday Night Football" last night, and we noticed this odd feeling, a peculiar sensation that we had, up to that point, never experienced. We couldn't figure it out; were we developing some sort of cold? And then we realized: We were watching "Monday Night Football" ... and we were enjoying every single person in the booth.
Yes, the addition of Ron Jaworski to the booth has already dramatically altered the whole dynamic in there. (We're not the only skeptic turning around on this.) Jaworski looses up Tony Kornheiser — he, lo, laughs at his jokes! What a concept! — and lets Mike Tirico work as a sort of moderator (which is what he does best), but what he brings most to the contest is ... well, he actually knows what he's talking about. He breaks down plays in a smart, accessible way, without sounding like a snot about it. He's likable and informative. See? It's really not that hard.
The jury is still out — it was just one preseason game, after all — but yeah: We might have to get used to not despising the entire "Monday Night Football" crew, people.
Official "MNF" Review: Game One [Awful Announcing]