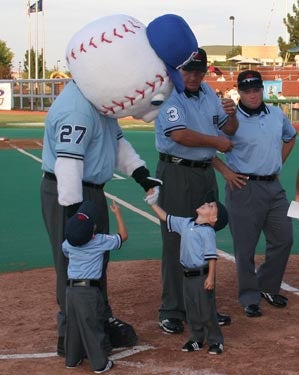 You remember that NBA refs-are-racists study from a few months ago? Well, if you thought baseball — a sport that's never had any racism, ever — was immune from that, wrong wrong wrong, you.
According to Science Daily, umpires tend to make calls that help out those of their own race.
Daniel Hamermesh, the Edward Everett Hale Centennial Professor of Economics, finance professors at McGill and Auburn Universities and a University of Texas at Austin graduate student analyzed every pitch from three major league seasons between 2004 and 2006 to explore whether racial discrimination factors into umpires' evaluation of players. This summer, they presented their findings in the paper, "Strike Three: Umpires' Demand for Discrimination."

"Umpires judge the performance of players every game, deciding whether pitches are strikes or balls," Hamermesh said. "Discrimination affects the outcome of a game and the labor market, determining the pitcher's market value and compensation."
We don't understand this study, at all. Mainly, a look at Major League Baseball's umpires reveals that — according to our count — there are 72 umpires in the majors right now. Sixty-six of them are white guys. Where, exactly, did they get their data? Good luck finding an umpire to study the response to Ichiro ... or any Cubans ... or ... jeez, there's just too much.
Batter Out [Science Daily]