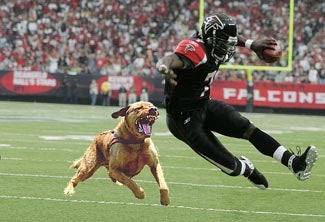 We have become so jaded by the American legal system that it's difficult to imagine a celebrity the likes of Michael Vick actually facing any real jail time. We imagined probation picking up dog doo with his teeth, and a hefty fine. But if the feds were out to get Ron Mexico, it's starting to look like they were successful.
With Vick under the gun in every possible way, his lawyers — one of whom, in a symptom of just how crazed this case has become, felt obliged yesterday to point out that he is a dog lover — are almost certainly going to take a deal that limits Vick to one year in jail, or something around that. The idea is to salvage his NFL career, or what's possibly left of it.
We're not sure if jail time served counts as part of Vick's suspension, or if he has to sit through another suspension when he gets out of jail ... but it looks like he's going to jail. Imagine that.
Vick Attorneys Negotiating Plea [Atlanta Journal Constitution]
Ookie Is Screwed [Rumors And Rants]