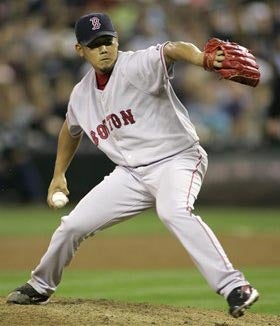 How much would you pay for a baseball signed by Daisuke Matsuzaka? We ask this not as theoretical. There's an actual, concrete price, and ... well, uh, it seems like a lot.
According to CNBC's Darren Rovell, Dice-K is signing baseballs for ... around 450 bucks.
Sure enough, the price for a Matsuzaka signed baseball in English will be $449.99, while his signature with a Kanji inscription will cost $100 more. The public usually pays between double and triple what the player gets per signature. So that means that Matsuzaka is conservatively making $150 per signature, one of the highest in sports memorabilia history.
We've never quite understood the memorabilia business; it's another of those things that takes the games we love and somehow makes them more unseemly. So we wouldn't pay $450 for an autograph even if it were Ankiel signing a copy of Nevermind while watching Husbands and Wives and wearing a Mattoon High School letterman's jacket. But hey, we're not a bored middle-aged banker looking for a reason to keep going, either.
Dice-K Signs With Upper Deck [CNBC]