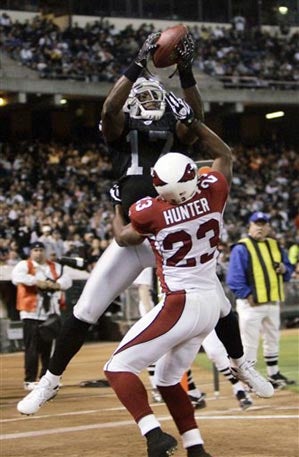 Believe it or not, folks, the NFL season is much closer than you can possibly imagine. So close, in fact, that, if we're going to fit in every NFL team preview by the start of the season, we have to go this early. So there you have it.
Last year, we asked some of our favorite writers to opine why Their Favorite Team Was Better Than Yours. Ultimately, we found this constrictive, and it also might have killed James Frey. So this time, we've just asked them to just run free, talk about their team, their experience as a fan, their hopes, their dreams, their desires for oral sex. All our teams are now assigned; if you sent us an email and we didn't get back to you, we're sorry, and we accept your scorn. But today: The Oakland Raiders.
Your author is ScottVanPeltIsMyHero, a commenter, a DeadOn contributor and writer for A Kind of Blog Where Books are Discussed. His words are after the jump.
——————————-
Hello, I'm ScottVanPeltIsMyHero, and I'm an Oakland Raiders fan.
I always feel I need to confess when I talk about football with someone, and I know why. I know what the majority of people think of the team and its followers and the image that the media (I'm looking at you, WWL) continues to perpetrate, and I hope to change that image, one person at a time. Now if you met me, you probably wouldn't think of me as Raiders fan: I'm quiet, bookish, generally soft spoken with no outstanding arrest warrants or large tattoos. But make no mistake, silver and black is in my veins.
I was 10 years old when the Raiders came back — nay, came home, to Oakland, and I knew their return was going to affect me (living in the nearby small town of Alameda) in a big way that first time I went to the Oakland Coliseum to watch football. The first few years were like the very beginning of a very long-term relationship, a hesitant period of getting to know one another. I wasn't a fan when they were in L.A. because they had never been my team, though my dad would always talk about them since he grew up a fan during the 70's, Stabler-led glory days of the Raiders.
But as I got older, the bond strengthened as I became aware how the Raiders represented where I was from. I mean, the team headquarters was five minutes from my house; it was pretty easy for the team and my sense of home to get mixed up. Seeing players at the supermarket, being able to walk to the bay and see the Coliseum, it was then I realized how close to home this stuff hit, how it was a part of me, and I've never looked back.
And now here I am. It's been great at times (from about 1999-2002) and rough at other parts (from 2003 on), but it's always been rewarding in its own way.
Most people will tell you that the Raiders aren't going to do much this season, that they'll be lucky to win four games and are guaranteed to finish dead last in the AFC West. While I'm not saying the Super Bowl is a certainty, I do think they're a little better than everyone thinks.
We all know the problems of last year, that Art Shell wasn't equipped to coach an NFL team, that Tom Walsh was better equipped to cook Denver omelettes and that the offensive line looked more like a sieve than a cohesive protection unit.
But so many of those problems stemmed from the coaching staff, specifically the three-headed monster of Shell, Jackie Slater and Irv Eatman, that you didn't get to see what kind of talent the players actually had. And that's why most of the turnover occurred on the offensive coaching staff.
Enter 31-year-old new head coach Lane Kiffin, former co-offensive coordinator for USC and a man whose only NFL experience was as a defensive quality control coach for the Jacksonville Jaguars. Thirty-one is mighty young for a NFL coach, especially one with so little pro experience, but Al Davis has been right before when selecting young, inexperienced head coaches. With Greg Knapp, Tom Cable and Rob Ryan all on the staff, there will be plenty of NFL coaching experience around him. Cable is an important addition, and hopefully his introduction of zone and cut-blocking techniques to the offensive line can get it working and prevent Robert Gallery from fully assuming the title of 21st Century Tony Mandarich. The key to whether the Raiders do anything this year is how the offensive line plays. It's that simple.
They have a young defense that made huge strides last year and retained most of the players from that squad, though their run defense still needs improvement. Nnamdi Asomugha has become a top-tier cornerback, Kirk Morrison looks poised to make a similar leap at linebacker and Michael Huff had a quiet but solid rookie year at safety. These young players will serve as the core for a defense that the Raiders will build around for years to come.
Talent does exist at the skill positions on offense, even after shipping Randy Moss to New England. The problem was that the talent was mired underneath the poor coaching and the underachieving offensive line. Jerry Porter, Ronald Curry and Lamont Jordan can play, but not if the line isn't blocking and the game plans are antiquated. That's why the majority of the moves occurred on the coaching staff. This year will be used to evaluate what's actually there since last year's performance doesn't give an accurate portrayal.
The draft was where the Raiders made their big moves. They traded for Josh McCown (to keep the seat warm for JaMarcus Russell) and Mike Williams (who, if Kiffin can motivate him, could be a good offensive weapon) and unloaded Moss for a 4th round pick. Besides drafting Russell, the Raiders also got a couple of strong yet slightly unheralded offensive weapons in TE Zach Miller and RB Michael Bush. Miller should (finally) give the Raiders a consistent pass-catching threat at TE, and Bush, a Heisman candidate before breaking his leg, has real talent and should help solidify the backfield along with Jordan and newly acquired Dominic Rhodes.
So what do I think the Raiders can do next year? An immediate resurgence to win the AFC West? Despite the hope last year's Saints squad fills me with, it's not realistic. What very well could happen is that the team grows and learns how to play together even more, eventually challenging contending teams down the stretch and maybe stealing a game or two against a tough team. December games against the Colts and Chargers will provide them with that opportunity.
The road back is going to be long, and that first step is a manageable one that can eventually lead the Raiders back to prominence, or at least relevance.