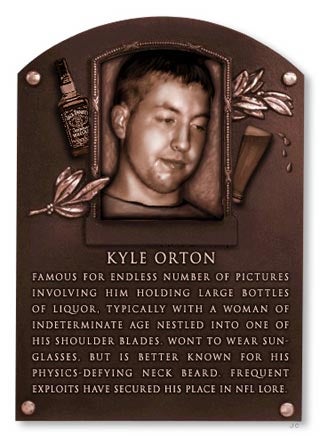 Heavens, it seems like it's been almost 360 days since we introduced the Deadspin Hall of Fame, though it's only been 51 weeks. Holy bejeezus: Our little site is turning two years old in a couple of weeks. Well, guess what, folks: It's time to take nominations for the 2007 class.
In case you've forgotten, here is last year's inaugural class:
• You're With Me, Leather
• Carl Monday
• Kyle Orton
• Clinton Portis
• "Run, You Stupid Fucking Dinosaur, Run!"
• Vikings Sex Boat
• Renee Thomas And Angela Keathley
As with last year, everything is up for nominations: People, memes, inside jokes, events, teams, whatever. (We remind you that last year's SHOTY winner didn't even make it in the hall, though he's available again this year.) Unleash your nominations in the comments, and we'll be bringing these up, two-by-two, for a vote next week. Two years of this little site; seems like almost 103 weeks.
(UPDATE: Outstanding stuff in the comments so far. We feel obliged to point out that nominations do NOT have to be from the last 12 months; they can be anything in Deadspin history you feel was overlooked or whose importance is just now being realized. The Last Calendar Year provision applies only to the SHOTY. Carry on.)