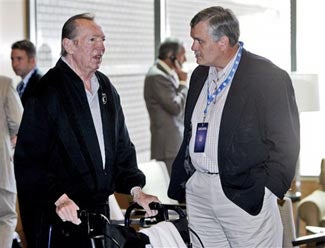 Believe it or not, folks, the NFL season is much closer than you can possibly imagine. So close, in fact, that, if we're going to fit in every NFL team preview by the start of the season, we have to go this early. So there you have it.
Last year, we asked some of our favorite writers to opine why Their Favorite Team Was Better Than Yours. Ultimately, we found this constrictive, and it also might have killed James Frey. So this time, we've just asked them to just run free, talk about their team, their experience as a fan, their hopes, their dreams, their desires for oral sex. All our teams are now assigned; if you sent us an email and we didn't get back to you, we're sorry, and we accept your scorn. But today: The Detroit Lions.
Your author is Michael David Smith, who covers the NFL for Football Outsiders, the New York Sun, AOL FanHouse and Pro Football Talk. His words are after the jump.
—————————————
This will be the Detroit Lions' shortest season ever.
When you're a Lions fan, in the Matt Millen era, the season doesn't last 16 games. It lasts until you've decided it's just too painful to keep watching and you can't take it anymore. Now, you might think that after all the pain we've suffered during the Millen era, we Lions fans would have decided, permanently, to stop watching about five years ago. But Lions fans aren't that different from the fans of the other 31 NFL teams. We allow ourselves to get swept up in the belief that this year could be our year, and when Week 1 of the NFL season begins, we're as excited as everyone else.
But every year we eventually realize that we don't have a team worthy of our excitement, and during the Millen era, that realization has come sooner and sooner each season. In 2001, we Lions fans didn't give up until December. Sure, the Lions started the season 0-12, but we just couldn't believe that Millen had made our team - which went 9-7 in 2000, the year before Millen became general manager - the laughingstocks of football. We kept watching in disbelief, week after week, as the Lions became the subjects of the only funny jokes Jay Leno has told this millennium.
In 2002 the Lions were almost as bad as they were in 2001, but the first-round draft choice that year was Joey Harrington. We just knew Harrington was our Quarterback of the Future, and he managed to keep us interested until Thanksgiving.
In 2003 we had new head coach Steve Mariucci to keep us going until mid-November. Mooch was such a nice guy that he just had to succeed. All successful football coaches are nice guys, right?
In 2004, the Lions teased us by starting 4-2, and that guaranteed that they'd keep us optimistic until at least Halloween. Yeah, they went 2-8 the rest of the way, but at least they waited until December to reach double-digit losses.
The last two years things have changed a little bit, and we've had no choice, in both 2005 and 2006, but to give up on the season in Week 2. In both years, we watched our Lions get their butts kicked up and down the field by the Bears in the second game of the season. Do you realize that the Lions have played the Bears in Week 2 for two straight years, and the combined score is Chicago 72, Detroit 13? As a Lions fan living in Chicago, I had to give up on the season after both of those games.
But this year it's going to be even worse: This year, Week 1 of the NFL season matches the Lions against the Oakland Raiders, the only team worse than the Lions last year. And that means a loss in Week 1 would cause us to abandon all hope.
And really, is there any doubt that the Lions will lose Week 1? These are the Lions we're talking about.
Sure, they've added rookie wide receiver Calvin Johnson. He looks great. And yeah, Mike Martz is our offensive coordinator. He makes things exciting. And Jon Kitna insists the Lions will go 16-0, and he'll throw 250 touchdown passes, while Roy Williams believes the offense will average 75 points a game. These guys are optimistic.
But these are the Matt Millen Lions we're talking about, and having a few guys around who make things exciting doesn't change the fact that the rest of the roster is as devoid of talent as NFL rosters get. Although drafting Johnson is one of the few Millen decisions I support, consider this: After selecting Johnson in the first round of this year's draft, Millen chose Michigan State quarterback Drew Stanton in the second round. At a press conference that day, Millen told the assembled reporters, "You guys are probably more familiar with him than I am."
It's not surprising that Millen would draft a quarterback and know less about him than the Lions' beat writers do. This is, after all, the general manager who made Cory Redding the highest-paid defensive tackle in the NFL this off-season. I like Redding, but seriously: This is the NFL of the salary cap era, when every dollar you spend on one player is a dollar you can't spend on another player. Do you think anyone on earth, other than Millen, believes Redding deserves to be the highest-paid defensive tackle in the NFL?
Other problems in Detroit include the once-promising young running back, Kevin Jones, who suffered a foot injury in December that might not allow him to run at full speed at all in 2007. And an offensive line that was the worst in the league in 2006. And the fact that their best defensive player last season, cornerback Dre Bly, was shipped to Denver because, it was reported at the time, "he doesn't appear to fit in Rod Marinelli's defensive scheme." Yeah, talented players just don't fit with what they're trying to do in Detroit.
So, as a Lions fan, instead of previewing the whole 16-game season, let me just tell you what will happen in Week 1: The Raiders are going to beat the Lions, with quarterback Josh McCown (a former Lion) leading Oakland to the victory. Starting 2007 with a loss to the only team that was worse than the Lions in 2006 will tell us Lions fans that the season is hopeless. And all we'll be able to say for the rest of the year is the same thing we've been saying for five years: Fire Millen.