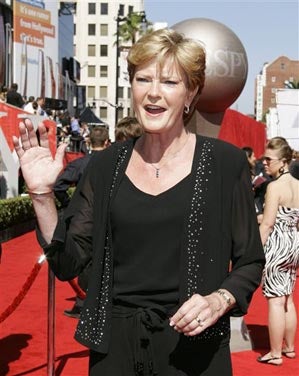 We try not to get too caught in domestic intranquility here — life is messy and ugly sometimes, and it hardly seems something to revel in unless it involves a Christie — but since we were late on it yesterday, and it involves a coaching legend who happens to have a stadium named after her, we feel obliged to point it out.
As you probably have heard by now, Tennessee coach Pat Summitt filed for divorce yesterday from her banker R.B. Summitt, her husband of 27 years. Again, divorce is a complicated thing, and we're not here to mock it. Instead, we point out what Sports By Brooks mentioned: Are they still going to keep the Vols stadium named "The Summitt?" They say they're not gonna change it, but we think that has less to do with tradition and more with Summitt's maiden name: Head.
If you're into such matters, you can read the full divorce papers right here.
Summitt Files For Divorce [The Daily Times]
No Word Yet On Stadium Name [Sports By Brooks]