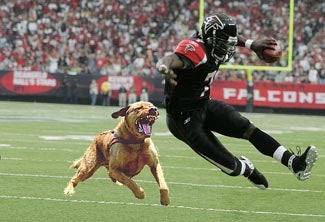 Two members of Michael Vick's entourage pleaded guilty this morning and are going to testify against him in the dogfighting case, and they very well might be sending him to prison for more than a year and ending his NFL career.
It feels like the end of an era. Not just the end of a once exciting NFL career, but the end of any trust athletes could have in their posse. Aren't these guys supposed to be protecting them?
Perhaps athletes now will be more mindful of their circle, more discerning even. At least we can hope. Athletes often believe in their own invulnerability. And some of them will continue to do so. But when they do, they should only think of Vick, who, sadly, looks to have lost it all - for his posse.
We're not big Entourage viewers, but if Turtle sold Vince out to the feds on a drug bust, that would inspire us to tune in, regularly.
Vick Fallout: End Of The Posse? [Ballers, Gamers And Scoundrels]
Vick's NFL Future Could Be Bleak [ESPN]
(UPDATE: The Smoking Gun, as always, is all over it.)