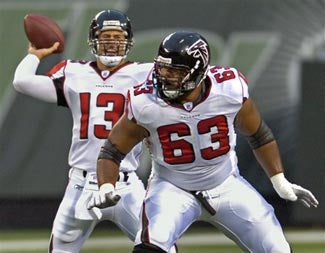 Believe it or not, folks, the NFL season is much closer than you can possibly imagine. So close, in fact, that, if we're going to fit in every NFL team preview by the start of the season, we have to go this early. So there you have it.
Last year, we asked some of our favorite writers to opine why Their Favorite Team Was Better Than Yours. Ultimately, we found this constrictive, and it also might have killed James Frey. So this time, we've just asked them to just run free, talk about their team, their experience as a fan, their hopes, their dreams, their desires for oral sex. All our teams are now assigned; if you sent us an email and we didn't get back to you, we're sorry, and we accept your scorn. But today: The Atlanta Falcons.
Your author is Jay Busbee, who runs the Atlanta sports blog Right Down Peachtree, and contributes to ESPN.com, Esquire.com, Bluff, and a bunch of other places. His words are after the jump.
—————————————-
So, how was your team's offseason?
Atlanta's kind of sucked. Former head coach Jim Mora Jr. talked himself right out of a job. New hire Bobby Petrino had to face accusations of jumping ship at Louisville. Jonathan Babineaux beat his girlfriend's dog to death. A woman was allegedly raped at the Atlanta home of Patrick Kerney, who just left Atlanta to sign with the Seahawks. And then there was...yeah, that.
So you can understand why Falcons owner Arthur Blank might long for the days of his former gig running Home Depot. When the feds bust dogfighting rings, they don't go after the guys who supplied the lumber for the rape stands. At recent press conferences, the once-spry Blank has looked as beaten-down as a lame-duck president at the end of his second term. (Matter of fact, you could say he's aging in...dog years! Wackity schmackity doo!)
He's not alone. The city of Atlanta's suffering through the late stages of Vick Fatigue; you can hear the weariness in the words of the columnists and talk-show hosts who've dissected every element of this case more obsessively than geeks working over a "Lost" season finale. But things aren't as divided as you've been led to believe; even the town's most reliably pro-athlete voices are suggesting that maybe, just maybe, The System has a point on this one.
You can forgive Atlanta for thinking it's snakebit, though. Think back to when Atlanta actually made it to the Super Bowl, back in 1999. The night before the game, Falcons safety Eugene Robinson, hours removed from accepting an award for "high moral character," tried spreading the love with an undercover vice cop. Then, two games into the next season, with the Falcons projected as a strong NFC title contender, running back Jamal Anderson blew out an ACL, torpedoing the Falcons for seasons to come.

We all thought it would be different with Vick, but it wasn't. And now, it's going to take years for Atlanta to get rid of the Vick stain. A check of Google News—the first step for hack snapshot journalism—reveals that while "Atlanta Falcons" brings nearly 15,000 hits, running the same search without Vick's name brings one-tenth that amount.
But that's for the future. Let's talk now. Forgotten in the whole Vick Affair was the fact that Petrino wasn't exactly enamored of Vick's skills from the get-go. Persistent rumors—remember, repeat a rumor three times, and it becomes a fact—held that if Vick put together another of his dazzle-and-fizzle seasons, combining hairsbreadth backfield escapes with bounce-pass third-and-longs, the Falcons would have been looking in other directions anyway.
Ah, but would they have looked in Joey Harrington's direction? Would anybody other than Harrington's mom? Like it or not, here we are. Harrington's a competent enough pocket passer, and right in line to helm the very embodiment of Simmons' Ewing Theory.
What about the rest of the team? Further proof that God must have lost money on the Falcons last season came right after training camp began, when Warrick Dunn, one of the NFL's unimpeachable good guys—he gives homes to poor people, for chrissake—went down with a back injury, costing him most of the preseason. Fellow backfielders Jerious (rhymes with "Carry us!") Norwood and Ovie Mughelli (tastes divine with a light cream sauce and cracked pepper), along with rookie Jason Snelling, may be a fantasy owner's worst nightmare, but they should prove a decent enough ground attack, even if they can't continue the three-year-old streak of leading the league in rushing.
The receiving corps is another concern. The Falcons signed ageless almost-wonder Joe Horn to combine with a couple make-or-break guys in Roddy White and Michael Jenkins. Alge Crumpler's one of the best tight ends in the game and should make for a nice little security blanket for Harrington. Petrino favors an attack that spreads the field, which means both receivers and runners will have room to move—hopefully downfield.
Even with the loss of Kerney, the defense should be solid enough, particularly with DeAngelo Hall and Lawyer Milloy deep and Keith Brooking centering the linebacker corps. Rookie defensive end Jamaal Anderson—no, not that one—should make an immediate impact, and hopefully not rupture an ACL doing so.
Fortunately for Atlanta, the schedule's got its share of sixteenth-seed creampuffs, including the Vikings, Texans, Titans and Cardinals. Which is good, because it's not like we'll get any kind of breaks in our own division. Federal prosecutors must have studied Tampa Bay's defense for tips on how to run Vick to ground. The Carolina Panthers don't much sweat the two annual I-85 showdowns. And we can't even kick around New Orleans anymore. Time was, the Saints were the Gary Cherone to our Sammy Hagar; the A.J. to our Paulie. As crappy as we were, we always knew we had New Orleans to cushion our fall. No more.
So, hey, in the end, who knows. Atlanta won't go 4-12, like plenty of people are predicting, but unfortunately, they won't be throwing a scare into the '72 Dolphins either. And maybe somewhere, ages hence, we'll all look back on this supreme misfire in the grand Falcons saga and manage a rueful smile. Some of us from lockdown, perhaps, but still.