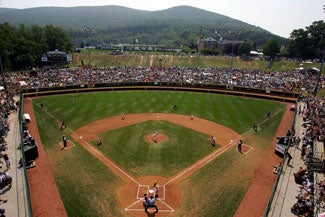 As mentioned earlier today, the Little League World Series championship started about an hour and a half ago, and it's Japan vs. Georgia, in an epic battle of which nation's future is brighter. (No, seriously. This game will determine that.)
This nation may be moving toward exposing athletes on a national level at a younger age — what's the point of televising high school football? — but for some reason, I grant the Little League World Series an exception. Maybe it's because of how the announcers treat the kids: as kids, not as competitors. Any player bio whose pertinent information includes "favorite food" is certainly trying to keep the event free of bad sportsmanship and belligerent parenting. Through the final inning, you can tell that all the kids playing are having fun, until the last out when a winner is crowned, and then one team starts crying. That's the other thing. This is the final stage of someone's athletic career where crying is an acceptable response to losing.
Right now Georgia and Japan are tied at 2-2, and we're through four innings. In the end, I won't care who actually wins, provided the team that wins is from the United States.
UPDATE: And here come the waterworks from Japan. but Dalton Carriker hit a solo home run in the 8th inning to give Georgia its second straight LLWS championship with a 3-2 win. Another impressive streak was held intact, as the United States reached the LLWS final for the umpteenth straight year, which is a testament to not only our country's little children, but also to the hard-working men and women that gerrymander the bracket.