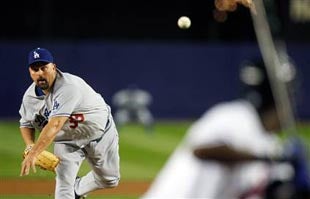 We have just learned what David Wells had been doing between the time the Padres cut him on Augus 6 and he was signed by the Dodgers last week. He was surfing, according to him. Mitch Yost-like, no doubt, shooting the curl at Imperial Beach like a sleek seal. Come on Wells, you never once left The Beachcomber, did you?
Evidence came with his half price Margarita-fueled, five-inning effort in his debut for the Dodgers on Sunday; LA beating the Mets 6-2. Our hero (6-8) allowed seven hits and two runs, walked three and struck out two in his first game in 20 days ... not bad, really. The Dodgers are now 3½ games back of wild card-leading San Diego, but with three teams to pass (four if you count the Rockies, with whom they are tied), it looks grim. Rafael Furcal went 3-for-4 and scored two runs. David Wright doubled twice for the Mets, who lead the NL East by six games over the Phillies. Kind of odd, isn't it, that David Wells is employed and Alberto Gonzales is not?
• We Now Join The NL Central Already In Progress. Georgia native Adam Wainwright threw seven innings to get the win as the Cardinals beat the Braves 4-1 powered by Juan Encarnacion's home run. And so our little soap opera shows the Cubs (5-4 losers to Arizona) in the lead, with Milwaukee (5-4 losers to the Giants) in second 1 1/2 games out, and St. Louis in third, two games back.
• We're Calling This. Joe Torre quote following Sunday's 5-4 loss to the Tigers: "We're all right." Translation: "We're screwed. We just have to hope for the wild card now." Curtis Granderson had an inside-the-park homer for the Tigers. The Yankees fell to 7 1/2 game behind the Red Sox in the AL East.
• Howard Huge. All you Ryan Howard fans should know that he homered and had four RBI as the Phillies beat the Padres 14-2.
• Four-Game Sweeps. David Ortiz hit a two-run homer, and J.D. Drew and Bobby Kielty also homered, making a winner of Julian Tavarez (!), the Red Sox beating the White Sox 11-1.