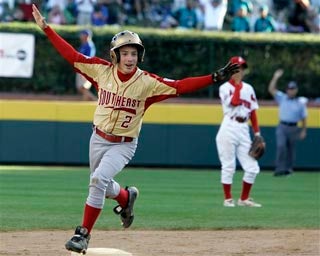 Had your fill of kids' baseball for the summer? Jesus, school starts in a week, and we're just now wrapping up. Warner Robins' championship win over Japan was great and all, but don't forget we had to slosh through nearly a month of televised children's programming on to get there; a kind of creepy short-term Sesame Street for sports fans.
I've always found ESPN's obsession with the Little League World Series pretty self serving. They are, after all, making money off the backs of 12-year-olds. I have nothing against Little League — I once coached it — but I have no clue as to why anyone other than coaches or parents would want to watch it. It's actually pretty boring; the umpiring is usually terrible and the parents are nuts. And the best players are mostly the ones who've hit puberty first, and watching a six-foot teenager hit popups that go for home runs over a 200-foot fence isn't my idea of compelling viewing.
All that having been said, however, Daulton Carriker's pitch-perfect quote on Sunday, after hitting the title game-winning home run against Japan, is making it hard on us cynics. "I felt like I was flying, like Peter Pan," Carriker said. "I didn't know what I was doing." Who but a kid could get away with a quote like that? That made it all kind of OK, at least for a day.
Just Peachy [SI.com]